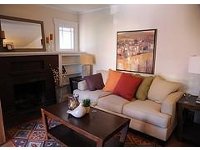 Change the Look of a Room without Spending A Lot of Money
Image by Wonderlane via Flickr
There are some people who hate change and some people who love change. I happen to be one of those people that loves change. I'd rearrange my furniture every month and redecorate every year if my budget would allow for it. Unfortunately, it doesn't.
One of the things I've found that is almost as good as redecorating on a regular basis is to change up my accessories on a regular basis. This is extremely easy to do if you have a neutral color palette. (
If you don't have a neutral palette, have no fear. You can use slip covers on your furniture in off white, beige, black or brown to give it a more neutral feel
.)
If you're looking to change the look and feel of a room without spending a fortune, I highly recommend using colorful accessories. A bright pop of color goes a long way in brightening up a room. My favorite colors to accessorize with are lime green and red, but blues, pinks, yellows, and oranges work as well.
Throw pillows, lamps, and picture frames are all fairly inexpensive to purchase. Feeling crafty? You can pick up lamps and picture frames for a few dollars each at thrift stores or garage sales and then spray paint them in the color of your choice. You can also make slip colors for throw pillows if you're handy with a sewing machine or needle and thread.
With accessories, you can change the look of a room as frequently as you want!
What's your favorite way to change the look of a room?