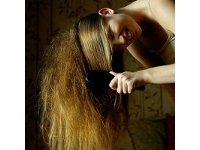 Cheap and Easy Beauty Treatments to Help Remedy Summer Sun Damage
Had too much fun in the sun this summer? Chances are it's probably showing. If you're like me and spent just about every weekend at the beach or cruised around under the sun with the convertible top down, then your hair and skin may need some repairing.
With the season soon coming to an end, there are some cheap and easy-to-do remedies for your post-summer beauty woes. Here are just a few:

Dry, Frazzled Hair
Hot, dry weather definitely sucks the moisture out of hair... unless you've followed my
summer hair tips
! If not, use an intensive moisture-rich hair mask once a week to get hair looking healthy and shiny. One I really like that is cheap is
Neutrogena Triple Moisture Deep Recovery Hair Mask
($6.99). It's packed with restorative moisturizers like olive oil and almond oil and smells great.
If you need a quick fix, try one of these really simple homemade hair masks. You probably already have these items in your kitchen.
Yogurt and Olive Oil -- Whip some yogurt with 1-2 tablespoons of olive oil. Wash hair with a mild shampoo and then apply the mixture and leave in for about 15 minutes. This can be done before you shampoo also.
Milk and Honey -- Mix a teaspoon of honey into a glass of whole milk and massage into your hair. Leave it in for about 15 minutes then rinse and shampoo.
Coconut Milk and Lavender Oil -- Mix a tablespoon of lavender oil and two tablespoons of coconut milk together. Massage into dry hair and leave in for about an hour.
Sunburnt, Peeling Skin
Green tea
has been shown to have positive benefits for the skin, like reducing inflammation. Do a green tea compress by dipping a washcloth in cold green tea and apply it to sun burnt areas to relieve redness, swelling, and pain.
Slough off peeling skin from old sunburns with a gentle scrub -- mixing olive oil and brown sugar makes a good exfoliant. I've also read that applying grated
cucumbers helps treat peeling skin
.
Rough, Battered Feet
My feet actually tend to be more dry in the summer than winter because of the prolonged exposure to the sun when wearing sandals. Soaking dry feet in vinegar can help reduce dryness by restoring the skin's natural pH balance. Soak your feet once a week in a small tub filled with warm water, a drop of dishwashing liquid and one cup of white or apple cider vinegar. Leave them soaking for about a half hour. Rub a pumice stone around the bottom of your feet to get rid of dead skin. After soaking, rinse your feet, and thoroughly pat them dry. Apply a foot cream, like Dr. Scholl's Pedicure Essentials Ultra Overnight Foot Cream ($6.99), before you go to bed and wear socks to lock in moisture.
Do you have any inexpensive tips for sun damaged hair and skin?