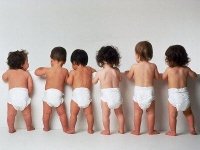 Cheapest Place to Buy Diapers - Amazon.com or Diapers.com?
After welcoming a new baby, one of the biggest costs that goes towards that baby is the purchase of diapers. Depending on the brand, the size, and features, the prices can increase dramatically.
According to
TheLaborOfLove.com
, on average most families spend between $80-$130 on diapers. For most working class families across America, this is a lot of money.
So how do you save money on an item that you definitely need but sometimes can't afford?
From my own experience, buying online is the way to go. We now live in an age where everything could be bought over the web and if you plan ahead, you can save a lot of money.
Amazon.com
and
Diapers.com
both offer diapers for significantly lower prices. If you join their membership programs
Amazon Mom
(
combined with Subscribe & Save
) or
Share the Savings Program
, you also get an additional 30% savings on top of their already reduced prices. Both memberships are free.
While both stores save you money, one actually save you more money. I took three popular diaper brands and did a side by side comparison of price, discount, and shipping. In the end, I came up with a winner. Who will it be?
Look at my side by side comparison.
In the price comparison, the prices shown are the discounted prices that are the current going prices at those individual sites. The "Price After Discount" are the adjusted prices after taking the Amazon Mom/Subscribe & Save discounts and Share the Savings Program discounts (
cash back credit
). With Share the Savings Program, the discounts are given back as cash back credits to the account to use towards future purchases.
One advantage that Amazon.com has over Diapers.com (
besides immediate savings
) is that they offer free 2-day shipping. At Diapers.com, they offer free shipping on orders over $49. Unfortunately none of the diapers above qualified for that offer.
At Amazon, you do have sign up for Subscribe & Save (
a recurring delivery subscription
), to get the full 30% discount, however, you can cancel at anytime. So basically it's a no strings attached membership.
Amazon.com was hands down the winner in the battle of the diapers' savings war. What's interesting is that Diapers.com is owned by Amazon.
Amazon
acquired Diapers.com
at the end of last year. While both stores are under the Amazon umbrella, clearly Amazon.com beat out Diapers.com in every comparison. Now may your savings begin!