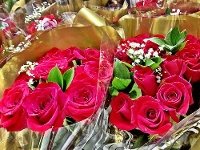 Cheapest places to buy flowers
I still remember early in my relationship with my man, when I told him that I wasn't one of those women that wanted my man to waste money buying flowers for me. They are expensive and just die within a few days or a week.
Ladies, don't tell your men this. This is a mistake. If you tell them this, then they will never buy you flowers again. Men listen to us. So here's what you tell them instead:
I love flowers, but I don't like the ones that die so quickly because they seem like a waste of money. Instead, I love potted plants or potted flowers. They last longer, and I can eventually plant them if I wish to.
This is what I should have said to my man, so I'm learning from my mistake and telling all you men out there to GET FLOWERS FOR YOUR WOMAN! If she's frugally minded, don't waste money on the ones that will die quickly. The plus side of this? You'll save money. You can spend $20 or more on a dozen roses, OR you can buy some beautiful potted tulips or azaleas at your local grocery store for $5.99-$7.99.
Here are the cheapest places to buy flowers and how to ensure that that they will last longer:




Look at your local grocery stores.

My Publix and Kroger stores have potted flowers for under $10...$5.99 to be more specific. This is less expensive than roses, and I have the benefit of being able to plant these beauties once the weather warms up.

Home improvement stores have many options when it comes to flowers and plants.

Just like the grocery stores have potted flowers, so do the improvement stores like The Home Depot.

Avoid ordering flowers online if possible.

When shipping and handling gets added in, this becomes the most expensive way to give flowers. Sometimes, it's nice to splurge on your lady with having flowers delivered (she will definitely feel spoiled), but it can be pricey if done regularly. The online flower places also have potted plants and flowers as options, and this is usually the best route to go as far as saving money and getting those flowers to last a long time.

How to get your flowers to last longer if you do buy a bouquet:

Get the late bloomers.

If you do buy flower bouquets, get the ones that have the buds still closed. They will open soon, and last longer. If the buds are in full bloom, this means your bouquet won't be lasting as long.

Use those feed packets.

Those aren't just there for show. Use those feed packets that come with the flowers to get them to last longer.

Don't buy flowers from vendors on the side of the road.

These people usually get the last pick of the day, and you want the best right?

Now ladies....if you were like me and told your man you never wanted flowers, here's what you got to do: Just send him the link to this post. You can thank me later. ;)

What are some of your tips for the cheapest places to buy flowers?

Crystal Collins is an Atlanta local, adventurer, a health advocate and thrifty as can be. Check her out on her blog at TheThriftyMama.com.

(Source: Savings.com)