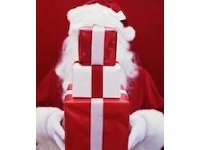 Christmas Wish List: A Last-Minute, Eco-Friendly Shopping List
Still looking for a few Christmas gifts? These eco-friendly stocking stuffers make great last-minute additions. You have just a few more days left to order them online, and you can also find these items--or something very similar--in many local stores. If you need a large stand-alone gift, just rescue a pretty basket from your local thrift store, add your favorite items from our gift list, and top it all off with a bow.
Wood works

Being made of wood isn't an automatic guarantee that your child's toys are eco-friendly. Some hardwoods, in particular, come from old-growth forests that simply aren't a sustainable resource at the rate we're using them up. Look for labeling that indicates the wood was harvested from a sustainable source. Better yet, items that are FSC (Forest Stewardship Council) certified, or at least FSC monitored. We like Boikido products, like the Boikido wooden alphabet puzzle for $19.99. They're painted with water-based colors, and come in a box made of recycled materials.


Be fair

Coffee is one of the highest-profile Fair Trade foodstuffs, but it's not the only one. (Not sure what Fair Trade is? Check out these fact sheets from the Fair Trade Federation.) Look for Fair Trade tea, chocolate, and nuts as last-minute stocking stuffers for the eco-friendly types in your life. Or if you need an eco-friendly gift in a hurry, use the links below to find a Fair Trade store near you. Fair Trade isn't only about food, and you'll find incredible creations made out of discarded or surplus materials.

To find fair trade products, use resources like Fair Trade Federation (search by city and state, category or keyword), Ecomall (search by category or keyword) and Fair Trade Finder mobile app.


Farm-friendly

How about a gift certificate for a local CSA program, farmer's stand or market? Everybody needs food; buying it locally automatically cuts down on the costs and carbon impact of shipping. The food is fresher, and thus more nutritious; and if you have any questions about how sustainable or eco-friendly the growing operation is, you can just ask the farmer.


Be a bag lady

Hit your local supermarket and purchase a reusable shopping bag. Roll the bag up to fit it into the Christmas stocking, or use it instead of a gift basket. Bonus points if the bag is made of recycled materials!


Go greenhouse

These can be sprouted on a sunny windowsill, or saved until spring. Tuck the seeds or bulbs into a stylish, biodegradable pot made from a sustainable source like bamboo fibers. The pots last for two or three years, and once they start to show signs of breaking down, you can toss them in the compost pile.


Grow packages

If you have the time to have something shipped (New Year's gift, anybody?), check out these bamboo grow packages ($20 - $45). Bamboo is a highly sustainable material, and there's nothing quite like the pleasure of seeing new life unfold right before your eyes. The same company also makes awesome grow bottles, stand-alone hydroponic systems made of upcycled wine bottles.
What are your favorite eco-friendly gifts to give...or get? Let us know in the comments!