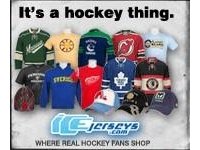 Contest Alert: $100 IceJerseys Gift Card Giveaway
Is it too soon to talk bathing suits and bikinis? Our Team here at Savings knows that for most of the country the sun has been having a vacation of its own and is anticipating some sort of consistent arrival in the coming months.
Last week our friends at
Swimspot
gave away a
$75 gift card
for some savvy bathing suit style opportunities. Creating your own custom bikini could be enticing enough for you to try! We had over 60 entries and with the help of Random.org, we have announced our bathing suit diva!
And the winner is...
ajolly1456
who said, "
I wish we had upcoming vacation plans, I could use a break. We probably won't have a vacation until July though, and no plans yet
." No worries--at least you can get a jump on buying a nice, new swimsuit even if your vacation plans are delayed!
Many congrats from the team here at Savings! We hope your swimming ensembles match your every need in the beach, lake, pool and any other festive world, for that matter! We've sent you an email with instructions on how to claim your prize. If for some reason it doesn't reach you, you can always email us at blog@savings.com before Friday, March 11th.
Even though spring and summer are on the horizon, we are still in the midst of some winter-related weather and sports. Yes, even sports! The Savings.com Team wants to know if you're a hockey fan. If so, what NHL team makes you cheer and jeer?
This week's prize can help you root your team to victory or remain prideful in times of loss and despair in the hockey rink. Our friends at
IceJerseys
have passed along a
$100 gift card
for your chilling hockey desires--on and off the ice. They even have a customizable jersey section, where you can create and add your own name to each jersey! Flexibility in design and color can help you achieve the right jersey for you and your team!
If you'd like to enter to win this gift card, all you have to do is review our
contest rules
and comment on this post by the end of the day next Thursday, March 10th. On Friday, March 11th, we'll announce the Stanley Cup Winner. Well, not really. More like the Savings Jersey winner!
Good luck everyone!