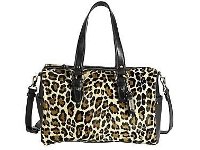 Contest Alert: $100 eBags Gift Card Giveaway
Having that extra spring in your step can be tied to that new promotion, a recent romantic relationship, the holidays and any other milestone in your life. On a more literal front, this can also be attributed to those new pair of kicks. Boots, sneakers, and even heels can give us the confidence to go throughout our day with comfort, style and poise.
Last week's post announced a pair of
Reebok EasyTone Sneakers
from
Footsmart
to help give you not only that extra spring in your step, but to aid in toning your legs and thighs along the way. What a great way to burn off those extra Holiday calories!
We had well over 100 entries on last week's post and with the help of random.org, we have passed along some extra "smarts" to your feet, much to the pleasure of Footsmart and Reebok, to a lucky winner.
And the winner is...
bicky15
who commented, "
I could sure use a pair of new shoes
." Well, these aren't just any pair of new shoes, but ones that'll have you taut and toned in no time!
Congratulations and enjoy! The Savings.com is excited for you to give these toning shoes a test run this Holiday season. We hope they give you the extra fitness fun along the way. We've sent you an email notification with more information regarding your prize. If for some reason you don't receive it, email us at blog@savings.com to claim your prize before December 3rd.
The Holidays are finally here and for many this means extra shopping, food and travel! Being prepared with luggage, bags for storing and even some added accessories to your wardrobe can make it easier for this time of the year.
This week our friends at
eBags
have given us a $100 gift card for their site. Their definition of bag is greatly skewed--in the best of ways! They have a variety of luggage, purses, backpacks and any other idea of a bag you can imagine. Colors, patterns and sizes come as second nature and are no stranger to eBags.
If you'd like to enter to win this prize, all you have to do is review our
contest rules
and comment on this post by the end of the day next Thursday, December 2nd. On Friday, December 3rd, we'll announce the winner!
Literally, now a little extra "baggage" in your life can actually be a positive thing. Holding, rolling, toting and all!
Happy Holidays and best of luck!