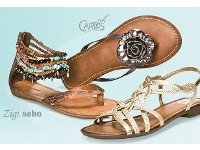 Contest Alert: $50 Famous Footwear Giveaway
Last week,
we gave away Kate Somerville Tanning Towelettes
. Congratulations to Savings.com user ewhatley who said, "Would love to have a chance to try this!"
I've sent you an email with all the details, but if you haven't received a note by next Tuesday (the 19th), send me a shout-out at social@savings.com.

Readers, I'll be honest with you- it's been one of those weeks. In the words of Audrey Hepburn (or should I attribute it to Holly Golightly?)
"The blues are because you're getting fat and maybe it's been raining too long, you're just sad that's all. The mean reds are horrible. Suddenly you're afraid and you don't know what you're afraid of."
Sometimes a bad day can't be cured with a cup of coffee or a good night's sleep, and in that case, it's typically time to buy yourself a treat- whether that means getting your nails done or indulging in a chocolate croissant with your coffee.
A licensed professional may not recommend shopping therapy as a way to cope with a bad day, but lucky for you, my days of studying psychology ended when I received my diploma. I'm a little bit in love with shoes, whether I'm rocking knee-high boots in the winter or a solid pump throughout the rest of the year. This week, we're giving away a $50 gift card to
Famous Footwear
, so if your shoe collection is a bit lacking, or you're trying to cheer up from a bad week, then keep calm and comment on!
To win this gift card, please review the
contest rules
and leave a comment on this blog post by the end of the day Thursday, June 28th, telling us what makes your life good. We'll announce the lucky winner on Friday, June 29th.