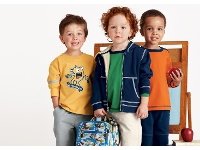 Contest Alert: Hanna Andersson Giveaway
Everybody loves gift cards, and everybody loves kids--even that old curmudgeon who staunchly says that he doesn't. They are cute, fun to be around and then they become teenagers. But that's a different story. So for all of those out there that love free gift cards and the smiling faces of happily stylish children, we've got a great giveaway in store for you. Curmudgeons need not apply.
Hanna Andersson has given us a $100 gift card to give away to one of our Facebook fans. Shop for childrens' clothing and Back to School gear without spending a dime. Unless you want to. That's entirely up to you. Nevertheless we hope the $100 gift card helps whoever turns out to be the lucky recipient.

If you'd like to enter to win some cool clothing for that favorite niece or nephew, or maybe your very own bundles of joy, just head on over to the Savings.com fan page on Facebook and become a fan. Once we reach 3,000 fans (we're at 2,698 and climbing), we'll select one of our fans as the lucky prize winner.
If you're already a fan of our Facebook page, spread the word to your friends, family, and followers. The quicker the word gets out, the sooner we'll give away this great gift from the fine folks at Hanna Andersson.

Good luck!