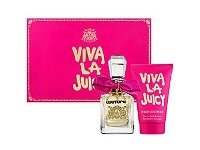 Contest Alert: Juicy Couture Viva La Juicy Gift Set
Well, last week's
LivePCSupport giveaway
inspired a less than stellar turnout. I'm assuming that many of you have never experienced the terror of a blank, blue screen when starting up your computer--or shelling out beaucoup bucks to try and retrieve your precious data after a system crash. One Savings.com member, however, won't have to worry about those scary-but-all-too-common scenarios for a year as they are the winner of the support package.
And that lucky person is...
...LonnitaMaxie-Carter! Congrats--you've won yourself a year's worth of LivePCSupport compliments of our friends at Comodo. We sent you an email notifying you this morning, but if you haven't received it for some reason, you can contact us at blog@savings.com before Friday, May 7th to claim your prize.
Now onwards and upwards to what is hopefully a more tantalizing treasure: our friends at
Sephora
have provided us with a juicy bit of swag indeed. A Juicy Couture
Viva La Juicy gift set
, to be exact. The $106 value includes a 1.7 oz. of Viva La Juicy eau de parfum spray, 4.2 oz. Viva La Body Lotion and 4.2 oz. Viva La Shower Gel.
Va-va-va-voom! All you need to do to enter is comment on this blog post before the end of the day on Thursday, May 6th.
Viva La Juicy! Viva La Sephora! Viva La Savings.com!