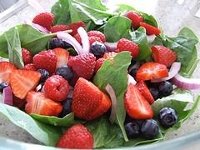 Cook Fast, Live Young: 7 Easy and Delicious Summer Salad Recipes
Image by MellowFood via Flickr
Summer is here, which means that greens are greener, and many fruits and veggies are in season--in short, it's the perfect time for salads! But because summer is also a time for picnicking and grilling out, remember that a salad can take many forms.
Here are a few of my favorites:
The Meal Salad
Salads are a wonderful way to use leftover meat and fish…and meat and fish can really add heft to a salad, making it feel more like a meal than a side dish.
Tuna salad
- Spices like pepper and tarragon can really turn a simple tuna salad into a zesty treat. Add lemon juice, Dijon mustard, and some low-fat mayo and you've got a great lunch.
Buffalo chicken salad
- It's like buffalo wings, but with lettuce. No, seriously. Add buffalo chicken to romaine lettuce and mix in some blue cheese and ranch dressing and you'll barely remember you're eating a salad.
Blackened steak salad
- Toss that leftover skirt steak from the grill with some romaine, onion, cherry tomatoes, olives, and feta, and you won't need anything else for your meal.
The Pasta Salad
A summer favorite for picnics and get-togethers, pasta salads make a great side--cold or warm.
Artichoke pasta salad
- Make your favorite pasta, such as penne. For the final three minutes or so of cooking, add some broccoli. Then drain the mixture. Next add some chopped up red bell pepper, ¼ cup of Parmesan cheese, and salt and pepper. Then add a jar of marinated artichoke hearts, including the marinade which will serve as a nice sauce.
Italian pasta salad
- Boil up some rotini pasta and let it cool. Then add chopped cucumbers, onion, tomatoes, and pitted black olives. Pour on some Italian dressing, and you're done!
The Fruit Salad
This time of year, there's a wealth of tasty goodies at the farmer's market. Enjoy them!
Mixed fruit salad
- Chop up some fruit and throw it in a bowl. It's that easy. You can also add whipped cream, chopped nuts, or marshmallows if you'd like to change it up.
Add it to some greens
- Use a sweet dressing, such as raspberry vinaigrette, and experiment by adding your favorite fruits, such as chopped plums, mangos, strawberries, or apples. Walnuts or almonds often complement the fruits well.
What are some of your favorite summer salads?
Juliana Weiss-Roessler has ten years of professional writing and editing experience. For four years, she managed the web content for the star of an Emmy-nominated reality series. Currently, she is an editor for the geek girl e-zine PinkRaygun.com, a contributor to the career blog at Resumark.com, and owner of the food blog CookFastLiveYoung.blogspot.com. Follow her @cookfast on Twitter and learn more about her work at WeissRoessler.com.