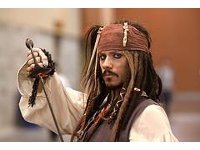 Cook Fast, Live Young: Don't Just Talk Like a Pirate, Cook Like a Pirate, Too!
Image by Gage Skidmore via Flickr
Arrr, mateys! Did ye know that the 19th of September is Talk Like a Pirate Day? Why not bring the celebration into your kitchen and cook like a pirate as well!
Pirates relied heavily on salted and pickled food as well as dry beans because these were the foods that kept best during their weeks or months at sea. Not surprisingly, a lot of what they ate wasn't the most appetizing fare, but there are a few recipes that are fun to check out.
Honey Cake
½ cup honey
4 eggs
1/3 cup sugar
2 tbsp ground ginger
1 tbsp of ground allspice
1 ¾ cups wheat flour
Heat the honey until it can be easily stirred with a spoon. Whip the eggs, and then mix in the honey and spices. Stir in the flour, and pour the mixture into a greased cake pan. Bake for 30 to 40 minutes at 350 F. Let it sit overnight and serve with butter.
Stuffed Hen
1 large Cornish hen
1 ¼ cup currants
1 tbsp sugar
1 tbsp cinnamon
7 tbsp butter, melted
Combine the currants, sugar, cinnamon, and butter. Stuff the hen with the mixture. Place it in a shallow roasting pan, and bake at 375 degrees F for 50-60 minutes or until juices run clear and a meat thermometer inserted into the stuffing reads 165 degrees F.
Bumboo
2 parts rum
1 parts water
2 sugar cubes (or 2 tsp sugar)
Sprinkle cinnamon
Sprinkle nutmeg
As they say, "Yo-ho-ho, and a bottle of rum." Just mix together, and enjoy!
Shiver me timbers! I was surprised to find that, while pirates certainly aren't known for their penny-pinching ways, there are a few sea-farin' strategies we landlubbers can put into effect to save a few doubloons.
Use what you have on your ship
. Since not all pirates could regularly stop by ports to get new fresh food, they had to use what they already had on board. Making use of what you have in your kitchen can help you keep costs down since less will go to waste.
Catch your own food
. Pirates kept cows and chickens aboard to provide them with fresh milk and eggs while at sea, and of course they fished. You can produce your own food, too by starting a garden in your backyard or just growing a few herbs in your windowsill.
Use lots of herbs and spices
. Galley cooks would use them to cover up the taste of rotting ingredients. Not exactly an appetizing prospect, but if you are trying to have a healthier, lower sodium diet, you can make use of more herbs and spices to cover up the lack of salt!
Eat with your fingers
. Utensils weren't really standard practice on pirate ships. Who needs them? There's dishwashing at the end of the night that way!
Now get cooking, or walk the plank!
Juliana Weiss-Roessler has ten years of professional writing and editing experience. For four years, she managed the web content for the star of an Emmy-nominated reality series. Currently, she is an editor for the geek girl e-zine PinkRaygun.com, a contributor to the career blog at Resumark.com, and owner of the food blog CookFastLiveYoung.blogspot.com. Follow her @cookfast on Twitter and learn more about her work at WeissRoessler.com.