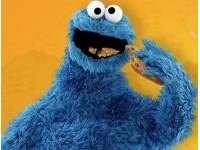 Cookie Monster and His Favorite Cookie Gifts
Cookie Monster loves cookies. All sizes, shapes and flavors. As long as they are cookies, he is monstrously happy! Cookie Monster will tell you that cookies are the universal favorite sugary treat. Gourmet gift baskets, cheese baskets, and fruit baskets are solid gift ideas, but you may not like everything in the basket. With cookies, you can select the perfect batch.
Holiday cookies are a fun tasty treat for the entire family. Which cookies will you serve this holiday season?
Charli "Chuck" Gulley is a screenwriter, filmmaker and freelance writer who lives in Southern California. Quite the tomboy, she enjoys Rugby, Fencing and touch football. She's an alumnus of the prestigious screenwriter's workshop, "Writers Bootcamp." Her passion is Hollywood, anything and everything to do with filmmaking. If you don't find her on set, you can find her at the arcade playing air hockey and eating pizza.