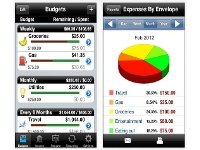 Create and stick to a budget with Budget Envelopes for iOS
It's too bad they don't teach money-management in schools (at least, they didn't in my day), because everyone should learn how to create and stick to a budget.
One of the simplest methods is called
envelope budgeting
, which started in the days when cash was used to pay for most things--but it can still work today.
The core idea works like this: You create envelopes for various expenses like food, clothing, gifts, and entertainment.
Within each envelope you put the amount of money you've budgeted for that particular category. When the time comes to buy something,you draw from the appropriate envelope. When the money's gone, you're done for the month.
Needless to say, this can really help you visualize what you're spending and learn to buy only the things you need.
Of course, if you're like many folks and rarely use cash anymore, you'll need virtual envelopes stuffed with virtual money--and that's where
Budget Envelopes for iOS
comes in. This $2.99 app lets you create an unlimited number of budget categories, allocate funds as you wish, and track your expenditures.
Plus, unlike a physical budget-envelope system, the app supports recurring transactions (like for utilities), gives you charts and reports of your income and expenses, and syncs with multiple devices--great for a family that's trying to stick to a budget.
The newly updated 4.2 version includes a Transactions List screen for each month so you can track your spending across all budgets.
If you've never stuck to a budget before or simply don't know how to work with one, Budget Envelopes might prove a very worthwhile addition to your iDevice. (Android users may want to check out
Easy Envelope Budgeting Aid
.)
Veteran technology writer Rick Broida is the author of numerous books, blogs, and features. He lends his money-saving expertise to CNET and Savings.com, and also writes for PC World and Wired.
(Source:
Savings.com
)