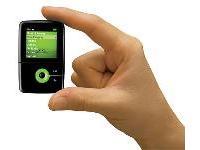 The Creative Zen V MP3 Player Goes To...
It's time, folks. It's time to announce the winner of the Creative Zen V MP3 player furnished by the good people over at
Napster
.
One week ago, Guy wrote a blog post talking about the
Creative Zen V
and asking people to comment on the blog with their favorite holiday song in order to be entered to win one. After just seven days, we had 120 comments on the blog from people proclaiming their favorite holiday song. The top three most commonly mentioned songs are:
3. The Little Drummer Boy
2. O Holy Night
1. Silent Night
I personally would have gone with something a little more light-hearted like a song from the Muppet Christmas Carol, but that's just me.
In any case, out of the 120 entries, we chose a winner at random. And our winner is (
with the song choice of "Silver Bells"
)?
Debbie Christie (
AKA heaventrees
). Congratulations Debbie! Be sure to load Silver Bells up on your new Creative Zen V player for your holiday listening pleasure.
Thanks to everyone who participated in this giveaway. If you didn't win, don't be disappointed! We've got another giveaway starting tomorrow, so stay tuned?
For the latest Savings.com news, including contest and giveaway announcements, follow
@savings
on Twitter or become a fan of the
Savings.com fan page
on Facebook.