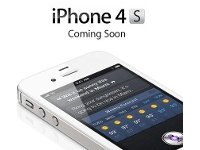 Cricket to Offer No-Contract iPhone for $55 per Month
Want an iPhone, but don't want to get locked into a two-year contract? Wireless carrier
Cricket just announced plans to offer a no-contract iPhone
with seriously attractive monthly rates.
Starting June 22, you'll be able to get an 8GB iPhone 4 or 16GB iPhone 4S without the usual two-year commitment.
What's more, Cricket offers unlimited voice minutes, texting, and data for just $55 per month--a price that far undercuts the likes of AT&T and Verizon.
Ready for the catch? (You knew there had to be one, right?) Because there's no contract, the iPhones aren't subsidized in the usual way. And because they're not subsidized, they're
pricey
.
Specifically, the iPhone 4 costs $399.99, while the iPhone 4S runs $499.99. Ouch. (Also, there's an asterisk next to "unlimited data," which actually has a "fair usage" cap of 2.3GB per month.)
So now it's time for a little math. AT&T charges $99.99 for the iPhone 4, plus $119.99 per month (for two years, minimum) for a comparable service plan. That works about to $2,980 over the course of two years. (Wow, right?)
Cricket's plan works out to $1,720 over that same two years, iPhone 4 included. So while the up-front costs will be harder to swallow, you'll come out ahead over the long term.
And you'll also have the option of discontinuing service if you need to, without having to worry about stiff early-termination fees.
You'll want to make sure to check
Cricket's coverage map
, as the service isn't everywhere yet (though it's expanding rapidly). But assuming you live in a service area, this could be the iPhone deal you've been waiting for.