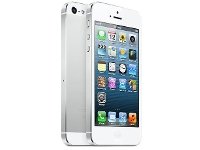 Cyber Monday steal: Get a no-contract iPhone 5 for $359.99 (or less)
Conventional wisdom holds that if you want an iPhone, you have no choice but to get it from a big carrier, lock into a two-year contract, and pay a minimum of $70 per month for service--usually closer to $80 by the time you get hit with all those taxes and fees.
Not today. In honor of Cyber Monday, Virgin Mobile has the
iPhone 5 (16GB) for $359.99 shipped
, with no activation charge and, more important, no contract. It's available in your choice of black or white.
And here's a bonus tip for users of
cashback service Ebates
: That site is currently offering a
$25 cashback payment
with the purchase of any Virgin Mobile iPhone. Assuming you take advantage of it (and I can't imagine why you wouldn't), that brings your total down to $334.99--the best price I've ever seen for a new, no-contract iPhone 5.
Even more exciting (to me, anyway), Virgin Mobile's monthly plans start at just $35, a price that includes 300 voice minutes and unlimited texting and 4G LTE data. If you need more voice minutes, the 1,200-minute plan costs $45 per month. And get this: Sign up for auto-pay (which I suspect most people would do anyway) and Virgin knocks off $5, meaning you can operate an iPhone 5 for as little as $30 per month.
If there's one catch to all this, it's the less-than-fabulous coverage afforded by Sprint's network (which is what Virgin Mobile uses). Be sure to
check the coverage map
before placing your order. In my neck of the woods (southeast Michigan), for example, the network is pretty good, but if I head up to northern Michigan for the weekend, I may have trouble finding a 4G or even 3G data connection.
Depending on where you live (and travel), this may be a deal-breaker, or it may be no big deal. Hopefully it's the latter, because this is actually an incredible deal for anyone in the market for a late-model iPhone.
So incredible, in fact, that the 32GB and 64GB models are already sold out. The same will likely happen with the 16GB version, so if you're interested, don't wait.
Veteran technology writer Rick Broida is the author of numerous books, blogs, and features. He lends his money-saving expertise to CNET and Savings.com, and also writes for PC World and Wired.
(Source:
Savings.com
)