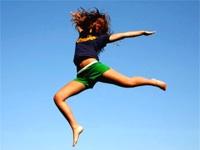 Dare to Bare: Prepping for Short Shorts
As spring makes way to summer, the days get longer and my shorts get shorter. As my apartment goes from cozy to sweltering, my jeans, in turn, retire for a while. These are my legs, exposed in the naked truth of sunlight: pale, dry, and shrinking from the light of day. But that's what beauty products are for, people! Here are my suggestions for the first time those winter gams see the daylight.
Of course all of these products and tips are budget friendly so you have more money to take surfing lessons, buy fourth of July sparklers, or otherwise enjoy this magical season.
Remove Hair
While razors provide instant smoothness, I love waxed legs. The effect last at least a week, and are softer than shaved legs. Plus, many lifetime waxers swear their unwanted hair eventually started to grow in finer, and eventually, not at all. If you don't want to spend your time or hard earned money at the salon, try an at-home waxing kit like
Moujan 2000 Pre-Waxed Strips for Body
.
Exfoliate
Start with a rough scrub to slough away the layer of dead skin. I swear by the Lavender Body Scrub at Trader Joe's, but
Alba Hawaiian Body Polish
comes in a close second.
Tan
If you have lovely, alabaster skin that looks amazing without a tan, I tip my hat to you, Ma'am. In my case, olive undertones leave me looking like I have a case of Scurvy when I've gone too long without some rays. On the other hand, I like to protect my skin so it'll look good for years to come. I love
L'Oreal Sublime Bronze Self-Tanning Lotion
because it protects your skin with SPF 15 while giving you a I-just-spent-a-day-on-the-yacht glow. Since you exfoliated first, your skin will be mega smooth and no streaks will give your fake and bakery away.
Moisturize
I recently returned to the St. Ives fold after their
Collagen Elastin
cured my seemingly incurable cracked legs. Now, the lotion I used in middle school is back in the rotation. I apply before bed, and wake up to stems that practically glow. For just $5.99, it's a must do. Plus, the light cucumber smell is summery sweet.
Firm?
Look, ladies, everyone has cellulite.
EVERYONE
. Even Tyra Banks. And nothing cures it. But, if you must fight the good fight, do it the smart, budget friendly way. Used coffee grounds have the same effect as pricey creams and scrubs due to the caffeine content. Yes, there is a short lived firming effect. So if you obsess over that kind of thing, promise me you won't throw your money (
or your coffee grounds
) away. Now that your legs are feeling smooth and looking lovely, bust out those shorts! Got any tips for girls who wear short shorts? Share 'em in the comments below!
Annie Mebane is a screenwriter and improviser living in Los Angeles. A veteran Savings.com DealPro and beauty product aficionado, you can catch her blogging about beauty on Wednesdays.