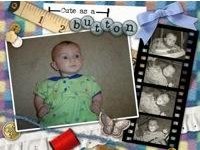 The Frugal Family: The Price of Memories
I remember spending hours upon hours as a child leafing through shoe boxes full of photographs. My mom collected hundreds of photos of people and places over the years, yet she often forgot the stories behind the snapshots. She also started baby books for each of her three children, but the books were left blank halfway through when life or another child demanded more attention. The child archivist in me became a scrapbooker as an adult in an attempt to record memories in writing as well as on film. Of course, I hoped that I would find more time to catalog my adventures than my mom did...
Thanks to the digital camera, film development is mostly a thing of the past. Printing digital photos is fairly inexpensive, partly because photographers are saved from printing out of focus shots. Unfortunately the materials for scrapbooking are costly and a completed scrapbook regularly rings in at $100 or more. That $100 looks extravagant when compared to the need to feed and clothe a child. All of that is aside from the actual time it takes to complete a scrapbook--anywhere from a few weeks to several years! I'm always lacking time and money as a parent, yet I am still set on documenting important memories. I feel lucky to have found a service perfect for the multi-tasking, time and cash-strapped mommy in me:
Shutterfly
. The online service allows me to upload digital pictures, create and maintain a free website to keep out-of-town family updated on my little guy's development (
saving me money on postage and long distance calls
), and publish everything in a photo book with as much journaling as I want. Furthermore, in contrast to the extra time and materials it would take to assemble multiple scrapbooks at a time, I can order several copies of my photo books and use them as personalized gifts without the extra work. Last year another benefit to my online photo account came to light when my computer's external hard drive got corrupted. I seriously thought I might have a heart attack when I thought of losing all of my son's baby pictures! Luckily I remembered that every picture I had ever taken of my son was stored in my Shutterfly account and could be put onto a disk at any time. Thank goodness for that! The best part? The backup photo storage was free…as opposed to the money I slapped down on that failed hard drive. Shutterfly,
Snapfish
,
Picaboo
, and Blurb are just a few of the many custom book publishing services. Some services are completely web-based whereas others require users to download (usually free) software. For those who are less creatively inclined or just very pressed for time, look for an option to let the service do all the work of assembling your digital album of photos into a photo book for you with just the click of a button. Busy families can create photo books in a matter of minutes! Does your family use online photo services to save time and money? Are there other benefits to these services, as well?
Crystal Ritchie lives and blogs in San Francisco with her preschooler son Jack and her partner in crime/fiance David. She loves to share stories, tips, and tricks related to the parenting gig. When she is not parenting, writing as the San Francisco City Guide Editor for Savvy Source and on her personal blog, Ewokmama.com, or scoping out awesome deals, she can be found working at a software company in her favorite city.