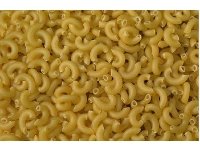 Dinner Kids Love for Under a Dollar
I don't buy many meal "mixes or helpers" because of their high sodium content but I often have a very teeny window between work and the homework/shower/dinner/bedtime merry go round.
When I need to whip up a quick dinner, I often make a double or triple batch of something easy and freeze it. To me, this is more doable than spending an entire day cooking a month's worth of meals.
Here is my (somewhat) healthy Cheeseburger Mac Recipe
. You can add or subtract anything you want from it, it's super easy to freeze and costs less than a dollar per serving. (I would know, my 5 and 7 old boys are big eaters!!)
Cheeseburger Mac
1 lb. box whole wheat elbow macaroni ($1.00 or less with coupons)
1 lb. reduced fat Velveeta or other easy to melt cheese, cut in chunks ($1.00 or less with coupons)
1 can evaporated low fat milk ($1.00 or less with coupons)
2 cans tomatoes, either diced with green chilis or plain ($1.00 or less with coupons)
1 bag baby spinach ($2.99) Broccoli, arugula, peas or edamame also work just fine.
1.5-2 lbs. ground turkey or beef ($5.00)
1 onion, chopped (optional) ($.20)
=========================================================
Cook macaroni in a large pot, while browning meat and onions separately. Drain Macaroni, and return to pot. Add cheese, milk, tomatoes, meat and onion. Heat on low or medium heat, stirring occasionally until cheese is melted (about ten minutes). Add spinach and mix until it wilts. You can also place a lid on the pot for a few minutes to speed the process.)

Makes about 18 1-Cup servings. Divide and freeze what you don't eat and reheat in the microwave.

Total Cost: $13.19. Most expert couponers would actually pay much less than that because our stockpiles often contain free pasta, evaporated milk and very inexpensive cheese and tomatoes. Even without coupons, this is a very affordable meal.