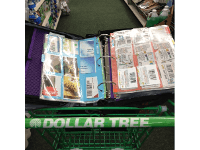 Dollar Tree Is Accepting Coupons Starting Today!
Starting Sunday, August 26th
Dollar Tree
is accepting coupons. How great is it that a dollar store will accept coupons. Everything in the store is only a buck. It's a bargain already, then you toss in a coupon and it gets even better.
Grab your coupons and check it out!
Dollar Tree's Coupon Policy:
Only original and intact manufacturers' coupons will be accepted. Retailer-specific coupons will not be accepted.
Coupons are void if copied, scanned, or if they have been altered in any way.
Only two (2) print-at-home Internet coupons may be redeemed per transaction.
We are unable to accept coupons for "Free" items with no purchase requirements or where the amount for the product is blank.
Coupons can only be used in stores and must be presented at time of purchase. Coupons cannot be redeemed for cash at a later time.
Coupons will not be accepted without the purchase of the item specified and are subject to the terms listed (e.g. expiration date, size, limitations, quantity, etc.).
Coupons cannot be redeemed for more than the purchase price of the item.
Only one (1) manufacturer's coupon will be accepted per item.
Management has the right to refuse any coupon or otherwise limit quantities.
I went to my local Dollar Tree with my coupon binder for a reconnaissance mission. There are a few things you should know about couponing there.
1. You may have a hard time matching your coupons to items they have available. They don't carry a lot of the brands that offer manufacturers coupons. Don't get me wrong, there are some great deals you can get with coupons there. You just have to look.
HINT:
toothpaste and toothbrushes.
2. Make sure you check your coupon for restrictions on sizes. The deodorant area is a great example. I had several $1 off certain brands of deodorant that are sold at Dollar Tree. But, with the size restrictions on the coupon, the offer wasn't valid with any sizes available in the store.
3. If you have a coupon for a free product, it will not be accepted.
4. Dollar Tree is new at accepting coupons so there is going to be a learning curve with the employees. Be patient.
Jackie lives in Seattle, her blog is Free Hot Samples. Where there are hundreds of freebies and deals up for grabs.


(Source:
Savings.com
)