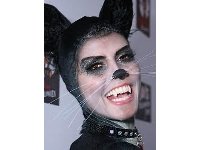 Easy DIY Halloween 2011 Makeup Ideas
Halloween
is the best time to play around with makeup and use it in ways that you never have before. There are lots of different ways you can incorporate staple makeup products into your fright night look.
Before you go out and buy face paint and fake blood, dig through your train cases and cabinets to see if you can re-create these Halloween effects:
Bruised or Dirty Skin -- Create bruised and dirty skin with black, blue or brown matte eye shadows. You can also use them for contouring. Be sure not to use anything with glitter or shimmer or it will ruin the effect. Bronzers are also a good way to create the dirty look.
Blood Effects -- Red or burgundy lipstick is the easiest way to create the look of blood without having to go out and buy fake blood. It's also good for making scratches and cuts. Use a sponge and smear some red lipstick over it, then dab it onto your skin.
Pale Skin – Get a quick, easy pale skin look with some foundation and baby powder. Apply a thick layer of the lightest shade of foundation you have on your face and neck. Then, apply a thick layer of baby powder using a makeup sponge or brush. If you want a more ghoulish look, try grinding up a little bit of black or dark blue eye shadow and mixing it in with the baby powder.
Bloody Nails -- I came across this really cool idea for creating blood splatter nails and it's really easy to do. All you need is white and red nail polish, some paper, and a straw. First, paint your entire nails white. Pour a little bit of the red nail polish onto some paper. Then, dip the straw into the red polish and do one quick blow onto the nail. Keep dipping the straw in the red and blowing until you get the desired look. Repeat this procedure for the rest of your nails. The blog post says to use a topcoat, but I think it would look more realistic without a glossy finish.
Veins -- Cut a small piece of a loofah or a mesh bath pouf to make the look of pop up veins. Rub a little bit of lipstick on them and stamp onto the skin.
Glitter Eyelashes -- If you're not going for a scary look, try jazzing up your favorite pair of fake eyelashes. Apply some glitter nail polish onto the lash bone and let dry. Apply a second layer for a more dramatic look.
Remember that black eyeliner pretty much goes with any costume. Use it to draw whiskers if you are going to be a cat or any other feline animal. Other costumes that require heavier use of black eyeliner are witches, zombies, Egyptian goddesses, punk/glam rockers, clowns and mimes.
Do you have any easy makeup tricks for Halloween? Share it in the comments below!