Eight months before Black Friday, Couple is first in line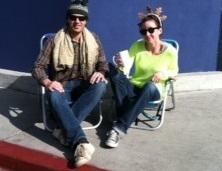 LOS ANGELES – Citing an unquenchable desire to get the best holiday deals, Los Angeles couple Finn and Laurie Thompson secured the first spot in line for Black Friday at an area Best Buy. Despite the fact that the annual day of discounting is nearly eight months away, the Thompsons were inspired by "HolidApril," a concept put forth by coupon site Savings.com suggesting that the 2013 holiday shopping season should and would start immediately after Easter.
The Thompsons exuded messianic certainty that living outside a big box store in a tent was the only reliable way to secure access to the best deals. "When I'm on my deathbed and somebody asks 'Did you do everything in your power to get 80% off a 56′ Panasonic TC-PVT50 HD 1080p UberPlasma TV' I want to the answer to be yes," stammered an emotional Finn Thompson. "Plus last year I tore my ACL rib-kicking the gentleman in front of me when the doors opened, and our health insurance doesn't cover injuries to the extremities."
As the holiday shopping season has become more critical to retailers' bottom line, the hoopla surrounding the period of deep discounting has become feverish. And it's happening earlier each year. "The holiday shopping season keeps moving up," said Brad Blake a retail analyst with TrendVision, a commerce activation analytics firm, whatever the heck that is. "Retailers started leaking deals in advance of Black Friday and last year a lot of stores were open around the clock on Thanksgiving. Now we have people camping outside Best Buy in April which, frankly, is insane and makes me question whether my wife and I should even consider bringing children into this sick, sick world. Anyhow, if this catches on I wouldn't be surprised to see major retailers enslave their entire workforce, forcing them to live in onsite shantytowns to meet changing customer needs." Blake also suggested that in these tepid economic times, most Americans feel like they can't afford to miss out on products they don't need priced at a steep discount, even though that thinking is utterly illogical and probably indicative of why China will soon become the world's only superpower.
For the Thompsons the decision to line up in April is more personal and can't be quantified in mere dollars and cents. "Mom passed away last year, she taught me everything I know about holiday shopping," said Laurie. "There are so many memories – clawing an old lady in the face as she was about to grab the last Xbox, dumping a display of $5 DVDs into a 20 gallon trash bag. Every part of our relationship involved buying stuff, thinking about buying stuff, or trying to return stuff that we bought and couldn't find the receipt for." Mrs. Thompson wiped away a tear. "Mom would be right here with us, rubbing her trusty MegaCashBack card for good luck."
There are a lot of hours and days between Easter and Thanksgiving. So how will the Thompsons kill all that time? Alas, Finn and Laurie were too busy prospecting for the best digital SLR camera prices on their dueling iPads to really process the question. "Sorry," apologized Finn, "things have just gotten so crazy since Cyber Monday became a year-round event."
(Source: Savings.com)