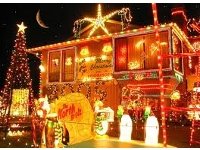 Enjoying the Season's Decorations at Holiday Events Across the Country
Though the stores start displaying Christmas decorations earlier each year (
and are starting to make me feel a bit jaded about the whole holiday season
), Christmas decorations are still one of my favorite things about this time of year. There are so many ways to enjoy the beauty and the hard work put into decorating for the holidays and the special events planned at this time of year.
One of my favorite things to do is to drive around to the most decorated neighborhoods in my town. The kids are already in their pajamas as we take a slow drive through the decadently adorned streets. My neighbors have bigger and bigger displays every year. One evening each year, I walk to the end of the block with my children, dressed in warm coats, mitten, hats and scarves. In Southern California getting dressed like this is a treat, not a chore.
I've found web sites for larger cities with directions to the best neighborhoods for viewing Christmas lights. In
San Diego, CA
there are many places to head to and in Chicago not only can you go on your own, there is a
tour company
that will take you to all the hotspots.
New York City
is the capitol of holiday decor and activities, they make it feel like Christmas. Walk down 5th Avenue to look at the amazing store window displays or ice skate at the outdoor ice rink that has been in so many movies.
Those that live in and around Seattle can enjoy the
Winterfest at Seattle Center
. Not only are there a ton of free events and activities, they have an outdoor ice skating rink. Admission with skate rental included is only $7 for adults and $5 for children.
Our capitol,
Washington, DC
, knows how to get in the spirit of the season. Visit the National Christmas Tree and enjoy performances for free. The U.S. Botanic Gardens has a special model train exhibit and replicas of famous Washington, DC buildings on display during the holidays.
During my children's winter break from school I plan to take them to see the
Reagan Library
in Simi Valley, CA. I've been told that the Christmas decorations are wonderful and this year they have 24 Christmas Trees reflecting the decorations of each decade from 1700 until 2010. I am most excited about seeing Air Force One, which I've wanted to visit for several years. Many of the other Presidential Libraries have special decorations for the holidays and they have interesting permanent exhibits as well. It's a good time of year to go visit.
Each year our zoo puts on a great winter treat. Last year they made sown. It was the first time my son had ever seen snow and we had a blast throwing snowballs at each other. This year the zoo created an iceless skating rink in addition to man-made snow. Many zoos across the country have special holiday events. Lights are strung up for evening strolls with hot chocolate and Christmas carolers. Not only is it a fun way to enjoy an evening, it supports your zoo and the animals that live there.
Treat yourself to a little break from the Christmas shopping and enjoy some of the many activities our communities sponsor during the Holidays. Check out your neighbor's Christmas lights or head to a free event to get into the holiday spirit.
Do you participate in any holiday events dedicated to decorations? Share your favorites with us in the comments!