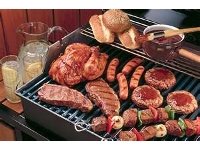 Everything You'll Need for the Best Backyard BBQ
Admittedly, one of my favorite things about summer is good old fashioned backyard BBQ. The thought of grilled corn, a roasted hotdog, some potato salad and some baked beans sets my mouth to watering. BBQs are an event that brings together people in a more casual setting. With with some planning you can have a fabulous backyard BBQ that comes together seamlessly.

Make a Guest List
Prior to doing anything else, make a guest list. Your guest list will serve as the foundation for all the rest of your plans. Some may say, "Who needs a guest list, a BBQ is a casual thing?" Yes, a BBQ can be more casual than a sit down dinner but it is imperative to know the number of people who will be attending so that you will not run out of food, and so that you will be able to have adequate room.

Plan a Menu
Whether your guests will be bringing something with them to contribute to the meal - which can be a great money saver - or you are supplying all the food, it is important to plan a menu. On the day of the event, no one wants to end up with 6 bags of hotdog rolls and no hotdogs because a menu wasn't carefully created.

Planning a menu will help you make sure everyone leaves your BBQ satisfied. Common meats to have at a BBQ are chicken, hamburgers and hotdogs, but you can add other things as well, like sausage or ribs. Once you have decided on the meats, you will know if you need rolls or buns. This will also help you determine which condiments will be needed. Some popular side dishes for a BBQ can include but are not limited to potato salad, corn on the cob, macaroni and fruit salad, and chips and dip. For dessert, some suggestions are watermelon, a sheet cake, and/or ice cream. Keep in mind that your menu can include anything you think would make a festive outdoor meal. And, don't forget that menu needs to include beverages too!

Go Shopping
Before you go shopping for what you will need, make sure to make a list. This will ensure that you have everything on hand the day of your backyard BBQ. First, tally up the number of people coming to the event.

Plan that each person will have a minimum of two peaces of meat. Once you have calculated this you will need to use this number to determine how much bread products will be needed. For the salads it is estimated that approximately seven pounds of any type of salad will feed anywhere from 20 to 25 people. If you want to serve chips and dip, now is the time to include them on your list. Your list should also include all the paper products that will be needed for each guest; napkins, cups, plastic cutlery, paper plates, dessert plates, etc. Keep in mind while figuring all of this out, it is always better to buy more - extra can be kept and served at another time - rather than less.

Prior to heading out to get your groceries a day or two before the big day, check to see if your grill is in working order, and that you have a full tank of propane or enough charcoal to keep the fire going. Once all this has been doe, with list and pen in hand do you shopping. Check off each item as you get it to ensure that you do not forget anything.

BBQ
On the day of your BBQ set up the tables, chairs, and the buffet table prior to your guests arrival. About a half hour before people are to come, get your grill fired up so that it will be ready for grilling. Get ready to greet your guests, and to enjoy fun and food at your fabulous party.

ENJOY!