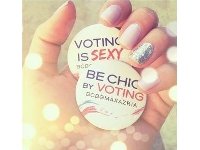 Exercise your right to vote and get a freebie
Have you voted yet? If not, please take a moment and go out to the polling places to cast your vote. Your vote counts!
At 7am sharp, I walked over to my polling place and it was closed until 10am. Not only was I excited to vote, I was also looking forward to getting my "I Voted" sticker to wear around all day long, but that will have to wait until my polling place opens.
Today, exercise you right to vote and you will be rewarded with many freebies. Cast your ballot and take a look at these list of freebies that you can take advantage of (
remember to show your sticker
):
A lot of news outlets were reporting that companies that are offering freebies for the "I Voted" sticker is committing a federal offense. Apparently they need to offer the freebies to everyone regardless if you vote or not. Too much drama in one day!

(Source: Savings.com)