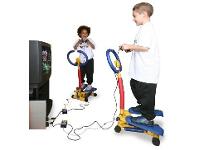 Exergames: Video Games to Help Kids Exercise
Earlier this week, US News reported that a study was done at the University of Massachusetts that showed that
children who play video games that require a lot of movement had higher metabolisms
than those who don't. How much higher? Surprisingly as high as people who do exercise moderately to vigorously.
Since the Guy And Yasar Show is all about video games, we've put together a list of games that you can use to "trick" your kids into getting the exercise they need:
Guy
:
Wii
Sports - Most people who have played with sports will attest to the fact that after playing the game for a few hours, you'll get pretty tired. The game is made for people of all ages so you don't have to worry about any violence or adult themes while your kids are playing.
Yasar
: Dance Central (Kinect) - Dance Central for the Kinect on the
Xbox 360
is a great game to learn some new dance moves while getting a decent workout. The game will teach you, step-by-step, same dance moves to some of today's most popular music including artists like Lady Gaga, Snoop Dogg, Benny Benassi, the Beastie Boys and much more.
Guy
: SingStar Dance (
Playstation
Move) - SingStar Dance is a similar game to Dance Central for the PS3. It has the added bonus that it let's you sing your favorite songs and dance to them. Think of it like a karaoke workout. A few of the artists it features are *NSYNC, MC Hammer, Kool and the Gang, Ricky Martin, and my favorite, Sir Mix-A-Lot.
Yasar
: Those are our top three picks for games to keep your kids moving and staying in shape. There are several games out there specifically geared towards working out which could be perfect family (
if not kid-specific
) fun ways to burn calories.

Guy:
Definitely. Zumba Fitness (
a dance workout
), which has gained major popularity over the last year, immediately comes to mind. It's the type of thing kids will get a kick out of and want to do every day.
Yasar:
EA Sports
Active and Get Fit with Mel B are two more that are more overtly fitness-minded. Don't worry that these may be more geared towards adults and that kids will find these games boring, as there is plenty of up-beat music and variation to keep them engaged.
For more video game news follow us on Twitter
@YasarSavings
and
@SavingsGCapes
.