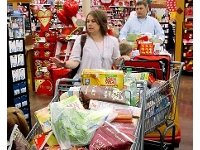 Extreme Couponing Fraud and Lawsuits
Image credit: NY Daily News
Despite some of the negative attention with one of the featured divas and
coupon misuse allegations
since the show aired, Extreme Couponing has generated mixed buzz across the forums. Whether you are a coupon virgin or dusting off the organizer, who doesn't want to save a little off their monthly grocery bill?
Here are few reasons I think it is okay to love the show and these super savers.
I stumbled across a few videos of Nathan (aka Mr. Coupon) through his personal YouTube channel,
FrugalTV
. In one of the them a viewer asked, what were TLC's guidelines for the shopping trip. He answered:
"[T]he only thing the producers told me to do was to do the most extreme trip I could possibly do, do it the biggest, the most, you know, really wow us, we want to see amazing, we want it to be the biggest haul ...."

This may not be shocking, but I can imagine the shopping trips featured were not typical for any of the individuals.
For anyone out there who has not watched the show but only read the hype, this is labeled with the reality television disclaimer. Not everything you see on television is as large as it appears in real life. Also, I keep hearing different folks mentioning they should be using their stockpiles to help others. I recall from a few episodes, several mentioned donating to family, friends, the community food pantry.
In regards to fraudulent usage, do your research by checking the store policy and verifying
coupon authenticity
to avoid fines. Companies such as
Hanes
are proactive in attempting to manage abuse and circulation of counterfeits with rewards for successful prosecution of individuals involved in the creation and distribution of fraudulent coupons. Last but not least, don't forget to check out and practice these tips for
good coupon etiquette
.
Have you seen or read any stories regarding misuse and confusion lately?