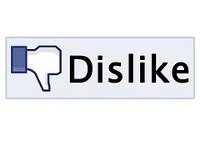 Facebook Adds Ads to News Feeds
Facebook, Inc, recently launched a brand-new ad format, called a "Featured Story," which dumps paid content - rather than updates from Great Aunt Lynn about her recent biopsy or one of those internet memes - squarely into our news feeds. Worse, these paid advertisements (a.k.a. "news feed) shows the actions of the Facebook users friends and these ads are front-and-center on our Facebook news feed.

Great. More ads.

I've been mildly annoyed by the ads (read: "Sponsored Stories") on the sidebar of Facebook, but have been able to tune them out. Now, when I'm blearily checking to see if I've gotten any response to my "Which Disney Princess Are You?" post, I'm bound to accidentally click a Featured Story.

You know what? I'm sick of ads.

Because I have to sell my firstborn son in order to see a movie these days, I do it perhaps twice a year. And as I'm drooling over my gigantic bucket of movie popcorn, waiting for the movie to begin before I dig into the million-calorie deliciousness, I've noticed an alarming trend. Before I'm even able to watch the previews for movies I'll never see, I'm inundated with fifteen minutes of commercials. ACTUAL commercials, not just previews.

While the actual movie plays, I can clearly see that the lead character drinks Pepsi (the drink of choice for superheros everywhere!) and uses a Mac computer to frantically recover lost documents. Thank goodness that Mac works, or the world would've come to an end! And I'm beyond thrilled that the Ford SUV is capable of fending off bad guys, because I know that it'll safely escort my family everywhere.

Ugh. ENOUGH with the ADS.

I try to escape them by watching a couple music videos online. Yeah, I'm old school - I still watch the videos. I notice that Britney Spears, like me, LOVES Swarovski jewelry and wears her very own perfume, while dripping with diamonds from Bvlgari. That's after I've closed out the google ads, which cut off half screen, at the bottom of the video.

So I take a quick trip into Chicago, where I live. I climb onto the El Train after staring at an ad for a lawyer who specializes in bankruptcy clients, and rather than make eye contact with the mentally ill guy threatening everyone on the train as he prophesizes about the end of the world (perhaps he should buy a Mac and drive a Ford!), I stare at the walls, hoping for some nice graffiti to take my mind off it all. Instead, what do I see? Ads for pregnancy crisis centers. A couple for more lawyers. Some advertising an online degree in something or another.

To escape the ads, I pop onto my Twitter account, to complain bitterly about the ads, when I'm blasted by "Promoted" Twitter accounts and sponsored trending topics. Thanks Twitter, but I don't exactly want to hashtag, #ILoveWalgreens because that's just...well, dorky. Nor do I want to follow Walgreens, Target, or Express. Thanks, but no thanks.

Eventually, I give up. I pull out an old book - a real book, not eReader - and only then am I able to be free from advertising.

Finally.