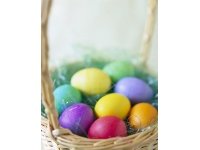 Fill Your Easter Baskets with Savings
Easter is rapidly approaching, and it's time to start thinking about prepping Easter baskets for the kids and other loved ones. If your pulse just started racing and you are imagining Easter baskets filled with dollar bills instead of treats, you can calm down. Plenty of opportunities for saving on Easter goodies are available. Using coupons found online can help pare down your costs and keep Easter costs manageable.
Candy
It's the first thing that comes to everyone's mind. The chocolate bunny peering out from behind a mound of green Easter grass, flanked by marshmallow treats is always an Easter classic. Plenty of coupons are available for treats to fill your baskets including such perennial favorites as Jelly Belly jellybeans and M&Ms.
For a unique and more old-fashioned touch, check out coupons from companies such as John & Kira and Old Time Candy. John & Kira are known for their gourmet and creative chocolates. From solid chocolate bunnies to adorable chocolate ladybugs and bees, to gourmet chocolate-covered figs, John & Kira candy adds a classy touch to Easter baskets for both children and grownups. Old Time Candy specializes in retro-styled candy that evokes nostalgia and a sense of tradition, such as Turkish Taffy, candy buttons, Necco Wafers, Chick-o-Sticks and even playful items like wax lips.
Care Packages
Do you have kids away at college, grandchildren who live miles away or other family across the country? Everyone predicates a special Easter treat! Consider sending them a pre-packed gift basket. Coupons for Gourmet Gift Baskets are available and make for a fun and exciting surprise. Gourmet Gift Baskets has baskets available in a number of different themes, including fruits and specialty cheeses, Easter sweets with stuffed bunnies, a dark chocolate and red wine basket for the adults and even a microbrew basket for beer lovers in the family.
Easter Gifts
Many families are turning away from the sweets and other edibles and looking to give Easter gifts that can be kept and enjoyed throughout the rest of the year. If you are looking to start a new tradition in your family, consider filling the basket with gift certificates to companies like Oriental Trading Company and Barnes and Noble.
If you prefer tangibles, use the coupons to get a great deal on books, crafts, or adorable Easter themed products from Lillian Vernon. Many products can even be personalized for that extra touch. Imagine an Easter basket emblazoned with your child's name, filled with precious stuffed animals and other little gifts. You can use the baskets repeatedly, saving money on Easter for years to come. While you're at it, you can also pick up personalized Easter decorations for the rest of the home, to surround yourself with the delightful joy of Easter.