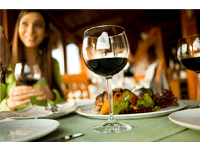 Find Restaurant Coupons, Deals and Other Ways to Save Money While Eating Out
Who loves food? Who loves dining out at new restaurants? Who loves saving money while doing so? Well, I'm here with some sites that are all about helping you eat out for less. One even gives you cash back! I've written about
free apps for foodies
and
fine dining without breaking the bank
.
This week I've got some new foodie sites for you.
Mogl
If you reside in the Southern California area, you're in luck.
Mogl
hooks you up with 10% cash back at over 150 participating restaurants in Los Angeles, Orange County and San Diego. All you have to do is
sign up for free
, enter the credit card that you'll be using when dining out and earn cash back to that card every month (
use the referral code "savings" and get $5 automatically deposited into your account!
). No coupons and no expiration dates.
Refer your friends and they get $5 just for signing up! You get $5 when they make their first purchase. Another great benefit? Mogl will donate a meal to
Feeding America
every time your bill is over $20. So far they have donated 12,326 meals with a goal of 12,500 by December 1st. So, what are you waiting for? It's win-win for everyone! For those of you not living in SoCal, Mogl has plans to expand to New York and San Francisco very soon.
SpecialsAgent
SpecialsAgent
is a national site that has over 1,000,000 deals, coupons and specials from over 250,000 restaurants and bars. Just enter your location and the site will pull up all the nearby deals. It even lists the specials by day of the week. It offers one of the most comprehensive listings of food and drink deal so not only will you save money, you'll also save time by not having to look at a ton of different sites.
Savings.com Local Deals
Here at Savings.com, we are all about saving you money. Have you noticed the
Local
tab on our site? This tab shows you all the deals, coupons and discounts that are near you. If you're looking to dine out tonight, go to Local, punch in your zip code and get a list of restaurants or even wine tasting deals. We make it easy for you to find the best deals in your neighborhood.
Ueatcheap
With a name like
Ueatcheap
, you know cheap eats are what you'll find. Enter your zip code or local area and get a list of cheap eats under $10. You can even search by cuisine, so if you're in the mood for sushi, this site will give you a list within five miles of your radius. Sign up for free and they will also send you coupons and updates of new restaurants.
GDine
Love dining out with your friends, but hate having to split the check at the end of the meal?
GDine
is a group dining site that offers discounts and lets you pay for your meal in advance! Basically, you go on their site, browse restaurants and offerings, coordinate with your friends and prepay for it online. That way you can enjoy your meal without feeling resentment towards the people who ordered more drinks or ate the expensive steak. Right now, GDine is only available in the Chicago area, with plans to expand to New York, San Francisco, Los Angeles, Boston and D.C by the end of the year.
What are some sites or tips you use to save money when dining out?