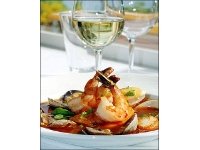 Fine Dining Without Breaking the Bank
If you're like me, you enjoy a good meal out a few times a month. But dining out can get expensive quick. I noticed that when I was going out a couple times a week, I would be spending $50 or so on a meal. That's $100 a week of extra expenses, which can be better utilized towards other necessities.
Never fear: I've come up with some solutions to
help save you money
on your epicurean needs.
Restaurant.com
offers gift certificates you can purchase and use at your favorite places. You can get a $25 gift certificate at discounts up to 80% off, which means a mere 2 bucks. Their offers change weekly, so be sure to check Savings.com for
coupon codes
. Right now, we've got one for 70% off.
Another great place to check is
Blackboard Eats
. They feature different restaurants every day in New York, San Francisco and Los Angeles. Discounts vary, but usually include 30% off your bill, free appetizers, free desserts or free drinks with your meal. Best of all, it's FREE. Now, that's a sweet deal.
Other sites like
Groupon
,
Living Social
and
Bloomspot
offer discounts on restaurants as well. For instance, you can get $80 worth of food for $40. Just pay $40, get the certificate and redeem it for the $80 value.
What happens if you go somewhere and liked the food, but hated the service? I'm a stickler for good service, and tip more if I feel the service met or exceeded my expectations. It's important for me to feel like the restaurant actually wants me there instead of just there to make a profit. Before I go to a restaurant, I'll usually read other diners experiences on
Yelp
. Reviews are all user-based so you can get an accurate assessment of the entire dining experience.
Try to pick a reviewer whose tastes seem to align with yours, and don't believe fake reviews that give a restaurant 5 stars when everyone else has given it 1 star. Follow people who have several reviews, not the ones who sign up just to bad-mouth a restaurant or to give it a stellar review because it's their friend's place. Elite status members usually have credible reviews, since they have to meet certain guidelines to become elite. Of course, you can write your own reviews so other people can benefit from your experience. There's also a great
Yelp iPhone app
so you can quickly pull up places near you if you are out and can't decide where to go for dinner.
Another good review site is
Citysearch
. They feature "Best of" categories on the main page so you can quickly check what the top places are.
Lastly, check
Sporq
for menus before going to the restaurant. I find this site very helpful if I want to order take-out or delivery. It's also good to know what you are getting yourself into before driving there. I like knowing my options.
Remember, dining out is fun, but doesn't have to cost an arm and a leg. Take advantage of all the great sites I've listed and Bon Appetit!