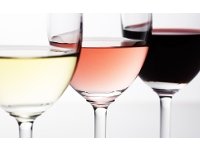 Five Cheap Alcoholic Beverages Under $20
In a recent article published by
Shape
magazine, researchers discovered that women who drank five to seven times a week had 50% better health than non-drinkers or those who drank less often. Having one drink per day can lead to
successful aging
which means less age-related illnesses such as heart disease, diabetes, brain and physical ailments. Good news for those who enjoy a cocktail or glass of wine every now and then. No, this does not mean that you should go out and start drinking. But, if you are already drinking keep it to a maximum of one drink per day. Everything in moderation!
Of course, like anything, drinking alcohol can put a dent in your wallet. No worries: here are some budget-friendly, yet tasty alcoholic beverages you can enjoy all under $20.
J.W. Morris, California Riesling, 2009
For white wine drinkers who are looking for a light and sweet wine, this Riesling from
Trader Joe's
costs a mere $3.99. It's great with seafood or even as an afternoon drink. If you savor it, you can taste a light hint of apple. I've brought this bottle to many dinner occasions and everyone has raved about it. Definitely a must-try!
Il Conte d'Alba Stella Rosa
Red wine drinkers who want to depart from the typical red wine will love this chilled version. Yes, chilled. It's light and fruity and can be enjoyed with fresh fruit, cheese or just by itself. I had it at a BBQ once and I'm not a red wine drinker. It immediately changed my perspective on red wine. You can find it at
BevMo!
for $11.99.
Trader Joe's Sparkling Sake
This twist on traditional sake adds some bubbles for a fun, refreshing drink. It's pretty light as well, so no hangover if you drink the whole bottle. I liked the peach and tropical fruity flavor along with the carbonation. For $4.99, it's quite a steal and great with dinner or before a night out.

Fat Tire
I'm not much of a beer drinker, but my girlfriends have mentioned that Fat Tire is a great beer. A smooth amber ale with a touch of orange flavor, this beer is popular for a reason. Now priced at $7.99 at BevMo! for a six pack.
Soho Lychee Liqueur
Wanna add some spice to your cocktail? This lychee liqueur will do the trick. Add a shot to your vodka to make a simple vodka martini. Top it off with an actual lychee that you can get in a can and voila! Instant gratification in a matter of minutes. Lychee is a symbol of love and romance in China, so it's perfect to enjoy with that special someone. I highly recommend it. You can find it at BevMo! for $18.99.
What are some of your favorite cheap beers, wines or spirits?