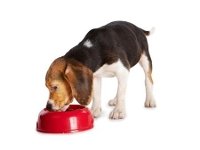 Five healthy, budget-friendly dog food brands
When it comes to taking care of our beloved animals, it appears that we pull out all the stops. Tons of toys.
Designer dog accessories
. The most high-end food we can find.
Of course, something we might want to realize is that it doesn't take a whole lot to keep our pooches happy. In fact, as long as we're around and they're healthy, they're pretty happy all the time. So we thought—why not find out if there's an area where we can save. Turns out, Americans spent approximately
$20.46 billion in 2012 on pet food
.
Seems like that's a good place to start.
"There are many very good dog food brands available," says Domenic Magazu, retail sales manager at Saint Francis Veterinary Center. Below, Magazu offers up the most frequently recommended foods at Saint Francis Veterinary Center, "recommended often with favorable nutritional and allergy friendly results, at budget-friendly prices."
Here's to saving more cash in the New Year! Bon appetite!
California Naturals Grain Free, Kangaroo & Red Lentils

Price:
5lb. bag for $14.70 ($2.94 per pound) or 30lb. bag for $71.70 ($2.39 per pound)
Benefits:
A very unique protein with a very low probability of allergic reaction.
California Naturals Lamb Meal & Rice
Price:
5lb. bag for $11.25 ($2.25 per pound)
Benefits:
Lamb is a very nutritious substitute for chicken, which is a common allergen.
Taste of the Wild Pacific Stream Salmon
Price:
5lb. bag for $11.25 ($2.25 per pound)
Benefits:
A very special omega 3 & 6 fatty acid rich grain free diet.
Chicken Soup for the Dog Lovers Soul
Price:
6lb. bag for $10.20 ($1.70 per pound)
Benefits:
Fantastic alternative to the higher priced Wellness and Pro Plan Brands. This food provides great building blocks for a healthy life at a reduced price.
Purina Pro Plan Shredded Blend for dogs
Price:
6lb. bag for $14.46 ($2.41 per pound)
Benefits:
I believe Purina Pro Plan is in the upper echelon of K-9 foods. Depending upon the breed and age of your dog, Pro Plan provides excellent building blocks at reasonable prices.
(From store to store prices may vary, the prices used above are from the Saint Francis Veterinary Center)
Keep in mind, there are many dog food brands that promote a healthy lifestyle in pets, it just takes a little research on your part to find them. "I've provided this group as they've helped me meet the nutritional needs of thousands of dogs that our veterinarians care for now, well into our second decade of client care," Magazu added.
Just remember-- be sure to check with your vet before making any drastic changes to your pet's diet.
Cheryl Lock is a personal finance writer at and former editor at LearnVest and Parents magazine. When she's not writing, she enjoys travel, which she blogs about at

wearywanderer.wordpress.com.
(Source:
Savings.com
)