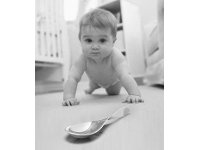 Five Most Expensive Baby Products for the Rich and Richer
Every time I turn on the TV, I see previews go out for "
Pregnant in Heels
," a new show on Bravo TV about
Rosie Pope
, who is the maternity concierge for the rich and privileged. She takes her expertise of providing high end services to the rich and showcases it on TV.
While ridiculous at times, I do find it fascinating to see what sort of things billion dollar babies have access to. I equally enjoy watching new mothers--very rich mothers--buying everything and trying everything just because they can.
The market for baby products are a multi-billion dollar industry and it's also a constantly growing industry. Every year I go to the biggest event for juvenile products and I can't even get through a quarter of the convention floor before I need to take a long break.
It's just that big.
So exactly what do these babies have access to and how over-the-top are these items. I found five of my favorites that are ridiculously expensive and things that we probably wouldn't buy--or moreso, couldn't afford.
While the baby market get larger and larger, the products get more extravagant, more expensive, and more outrageous. And of course, there's always the rich crowd who are ready to pay those high ticket prices to get their child what others won't even dream of.
Have you indulged in anything that your friends called you crazy for or have you come across some baby products that just made you shake your head (
in a bad way
)?