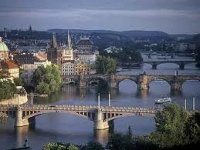 Five Reasons that Make Prague a Prime Travel Destination this Fall
Sitting in the heart of Europe, Prague is a beautiful city with red-tiled roofs and architecture that spans centuries. It's the only major European city left completely intact during the last major wars. Aside for being famous for its architecture, beer is serious business in the Czech Republic which has the highest per capita of beer consumption in the world. Typical Czech food is perfect comfort food for cool weather, with dumplings, rich sauces and meats.
Fall is a great time to enjoy the city of Prague and here are some reasons why.
Airline ticket prices plummet in the fall. Airfare in the summer can reach over $1500 round trip from Los Angeles to Prague. Ouch, that hurts! I looked up tickets on Expedia.com and found flights at the end of October from L.A. for less than $1,000--that's a 33% discount. Round trip airfare from New York starts at under $700. Generally you will have a minimum of one stop on your plane trip to Prague, though I found one non-stop for New York City on Delta Airlines for only $700. You depart at 8 PM in New York and arrive at 10 AM in Prague--pretty nice!


The Charles Bridge (Karluv Most) is a must-see in Prague. It has been a part of the city since the early 1400s. In the summer the famous bridge is so crowed that you can hardly walk across it without bumping into another American, German, English, Japanese or any other nationality tourist. With less crowds in the fall, you will be able to appreciate each of the statues, which were erected in the early 1700s (the originals have since been replaced by replicas). There are several other bridges that span the Vltava River, and you'll have a nice view of some of them along with the beautiful buildings that line the river.


Back to saving money...can you say cheaper hotel prices? Yes, the off season is a great time to enjoy less expensive hotel rates. Check out some of the great boutique hotels or bed and breakfast's in the Mala Strana (Lesser Town) part of Prague. You'll love the cobblestone streets and beautiful buildings. This part of town is perfect for strolls and close to some of the most popular tourist attractions, including the Charles Bridge and the Prague Castle.


The Metro, the subway system in Prague, is one of my favorite things about the city! But anyone that is familiar with any subway system knows that the summers can be unpleasant down in the underground. Getting into a subway car with people crammed in like sardines is bad enough, but summer sweat makes it down right gross! I'm not tall (okay, I'm short), and I've had my fair share of tall guys standing next to me, reaching up for the bar for balance, with their stinky armpit right in my face. Can I say gross again in the same paragraph? You get the picture: less people, less heat, less sweaty armpits in your face. Fall is terrific!


Good Czech comfort food is last on my list, but definitely not least. Fall is the season for goose. Ask at your hotel for recommendations for restaurants serving goose. Some only serve a whole goose that needs to be ordered in advance and though it's a lot of food, you won't be disappointed. Also try rizky (breaded pork chops) or vepro, knedlo zelo (pork with dumplings and sour kraut). While taking a walk around town stop at one of the stands for sausages with rye bread. This is the kind of food that sticks to your ribs and tastes oh so good when the weather cools down. Dobrou Chut (Czech for bon appetit)!
Pack your bags and take off for you perfect fall adventure to Prague!