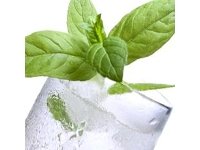 Five Simple and Cheap Ways to Jazz Up Your Drinking Water
We've all heard that drinking 8 glasses of water a day is essential for your health. And how many of us actually achieve that goal? I think I'm up to 6 glasses a day. However, a doctor recently wrote in the
British Medical Journal
that
drinking 6-8 glasses a day is "thoroughly debunked nonsense"
especially since there is no scientific evidence to support this theory.
Sure, you don't medically have to drink 8 glasses of H2O, but drinking at least 1.5 liters a day is still good for flushing out toxins and keeping your body running smoothly. I hear many people complaining that water is boring and tasteless, so here's a list of easy and cheap ways to jazz up your water.
1.
Add fruit
: A slice of lemon, lime or orange will give your boring water some instant zest. Not only will it add some citrusy flavor, it will also brighten up your glass. We are visual creatures after all. Plus, you can count that as 1/4 of a serving of fruit.
2.
Add veggies or herbs
: Cucumber or mint anyone? Now that summer is in full swing, I can't think of anything better than a refreshing sprig of mint or a cool slice of cucumber to add to my water. It's very common in spas and somehow makes the sipping water classier.
3.
Drink bubbly
: No, not the champagne. Some people prefer a little fizz in their drinks. You can get carbonated water at the store instead of still water. Get the store brand to save some bucks, even though Perrier with lime does taste pretty awesome. However, if you become really addicted to bubbly water, you might want to consider getting a fountain jet soda maker at home.
Soda Steam
has fountain jets starting at $80. Each carbonator can make 60 liters of fizzy water which works out to just $0.25 per liter. Take that Perrier!
4.
Add water boosters
: You've seen them at stores and probably went "Hmm... interesting."
MiO
is a new product from Kraft Foods and is designed to flavor your water with no additional calories, sugar or caffeine. It comes in six flavors and costs just $3.99 per bottle. Each one can flavor up to 24 drinks. Another option comes in powder packets by Propel. Apparently, these contain vitamins and are easy to tote around. The package of
10 costs just $2.97 at Walmart.
5.
Add some flavored ice
: Who says only liquids get to enjoy flavor? Add some fruit juice to your ice cube tray and pop them into your water. Want to kick it up a notch? Try putting tea into the ice cube tray and get reverse iced tea.
To keep your water costs down, I highly recommend getting a Brita filter for your tap water. Each
filter costs around $6 at Target
and the pitcher that comes with it is only around $20. This way you don't have to buy bottled water from the store, lug it home and clutter up the environment after consumption.
Are you a fan of plain water? If not, what are some ways you spruce it up?