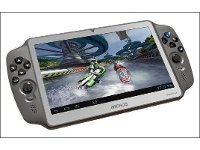 Five cool things I saw at CES 2013
This year's Consumer Electronics Show is over (for me, anyway), and I did not come away disappointed.
Quite the opposite: I saw some really cool tech that got me excited about new products, some of which are available now, some that are coming soon. And that's the whole point of the show, right?
Can't figure out which tablet to buy for the kids? Archos just made the decision pretty easy: the GamePad offers a robust, Android-powered tablet experience, but with built-in game controls on either side of its 7-inch screen. The price: a very reasonable $169.
Another nifty item from Archos, the TV Connect effectively turns your HDTV into an Android tablet, complete with a camera for running apps like Skype and a full-featured controller for entering text, playing games, and so on.
Company reps had trouble getting the demo unit working properly (the device doesn't officially ship until next month), but what I saw looked pretty cool.
As with the GamePad, I expected a fairly high price for this, but the TV Connect will sell for just $129.
Problem: You need to sync or charge your smartphone, but you forgot to bring along the necessary cable.
Solution: the ChargeCard, a sync/charge cable so compact, it fits in your wallet. In fact, it's about the size of a credit card, with an Apple (i.e. 30-pin) or microUSB connector at one end and a standard USB connector on a rubber arm that folds out from the middle.
Can't find your keys? Your remote? Your cat? Bluetooth to the rescue! Just attach a StickNFind sticker to your keychain, remote, pet collar, or the like, then track it on your smartphone.
Such digital tethers aren't new, but the StickNFind seems especially cool because it's about the size of a quarter, runs for a full year on a single button-cell battery, and can flash and vibrate as needed. It'll go on sale in March at a price of $49.99 for two stickers.
Now this is cool. Imagine a double-A battery. Now imagine a double-A battery that you can monitor and control from your smartphone or tablet. That's the Tethercell in a nutshell.
Why on earth would you want such a thing? When installed in any device that takes at least one typical AA battery (it can work alongside standard cells), the Tethercell can alert you when batteries are running low (like in a smoke alarm), turn devices on and off at scheduled times, and so on.
The product is still in development, and in fact needs additional funding via Indiegogo, but I have little doubt this is the start of something new and transformative in the wonderful world of batteries.
Those were some of my top picks from this year's CES. Stay tuned for some hands-on reviews of these and other cool tech products!
Veteran technology writer Rick Broida is the author of numerous books, blogs, and features. He lends his money-saving expertise to CNET and Savings.com, and also writes for PC World and Wired.
(Source:
Savings.com
)