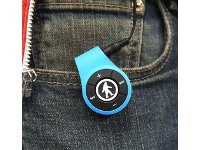 Five great tech gifts for under $50
Holiday-shopping season is upon us, and that means it's time to start looking for the perfect gift for that tech-using, gadget-loving special person in your life.
Trying to stick to a budget? No worries: the five tech gifts I've gathered below are all priced below $50--in some cases well below. There's a little something for everyone here, so read on and get your gadget-gift shopping done early.
All that great music packed into your smartphone or tablet, but no easy way to play it on your fancy home stereo.
There is now. The Belkin Bluetooth Music Receiver plugs into any home stereo or standalone speakers, allowing you to stream music wirelessly from your device. That way you can enjoy your playlists, Pandora favorites, and even Netflix movie audio on your favorite sound system.
The BMR retails for $49.99, but I've seen it selling for half that from stores like Newegg and Walmart.
You're never too old to play with toys, especially when it's a radio-controlled car you steer with an app. The CarBot relies on a special transmitter you plug into your Android or iOS device and an app that provides steering and even shooting controls (for multiplayer fun).
The USB-rechargeable CarBots come in multiple colors and sell for $29.99 each.
The problem with e-readers is that you can't wrap an e-book. So what happens if you want to give someone the gift of a new novel, biography, or the like?
Like the aforementioned Belkin receiver, the $39.95 Adapt (pictured above) is designed to make non-Bluetooth devices Bluetooth-compatible. However, it does so on a smaller scale, meaning it's best suited for use with headphones or earbuds.
Indeed, the Adapt is downright tiny, with a built-in clip for riding shotgun on a pants pocket or shirt sleeve. It features media-playback controls (volume, next/last track, etc.) and a microphone, so you can make or take phone calls using headphones that lack an inline mike.
The Adapt comes in your choice of pink, blue, or black.
Though hardly a new product, the Roku LT remains one of the best sub-$50 gifts ever. The little box plugs into your TV to let you watch and listen from Amazon, Hulu, Netflix, Pandara, and just about every other streaming service known to man. You can use the included remote or one of the free Roku-remote apps for Android and iOS. The only thing better than a Roku box? Two Roku boxes.