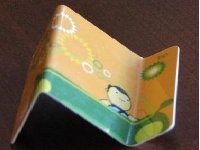 Five last-minute Father's Day gifts
Bad news, procrastinators: You've just about run out of time to shop for the ultimate Father's Day gift.
Good news, procrastinators: I'm one of you. And as a result, I've learned a few tricks of the last-minute-gift trade. If you still need a killer present for dear old Dad, I've rounded up several great items that don't require a trip to the store or even a visit from the UPS man. And as an added bonus, they're all reasonably priced.
1. LoJack for Laptops subscription
Dad's a practical guy, so he's sure to appreciate an insurance policy for one of his most prized possessions.
LoJack for Laptops
is designed to help recover a stolen laptop. It not only pinpoints the machine's location (assuming the thief connects to the Internet), but also allows for remote system lockout and data erasure.
Best of all, Absolute Software works directly with local law enforcement to help Dad recover his stolen system (so he doesn't have to go all vigilante on the thieves). A one-year LoJack subscription starts at $39.99, and the company is currently offering a second subscription for 50 percent off.
2. Netflix subscription
Dad loves TV, right? So why not set him up with the ultimate TV- and movie-streaming service? A three-month
Netflix gift subscription
costs $23.97 (other durations are also available) and gives Dad unlimited streaming on his smartphone, smart TV, tablet, game console, Roku box, and pretty much every other gizmo he owns.
3. A new Kindle book
My dad is a lifelong tennis buff, and so when Jimmy Connors' new memoir debuted last month, I knew it would make the perfect gift. Of course, Dad is big into e-books these days, and it's not like you can give an e-book as a gift, right?
Wrong. Amazon now makes it incredibly easy to "gift" an e-book to someone. Just head to the listing page for any given Kindle title (like, say,
Carl Hiassen's new "Bad Monkey"
), click the bright yellow "Give as a Gift" button, then follow the instructions. You can have the gift (which comes in the form of a redemption code) delivered directly to Dad via e-mail, or print a custom gift certificate to hand him in person.
4. Restaurant.com gift certificate
Why not treat Dad to dinner at his favorite restaurant--or, better yet, one he hasn't tried before?
Restaurant.com offers deeply discounted gift certificates
for lots of local restaurants, meaning that when you spend, say, $10, you can get a $25 certificate. Or $4 for a $10 certificate. (Options vary from one location to another.)
Even better, right now there's a special code that'll get you a $25 certificate for only $4. (Click through the above link to find it.) Once you've stocked up on cool dining experiences for Dad, you can print or e-mail the certificates.
5. The gift card + smartphone stand
Ah, the old standby: the last-minute gift card snagged at the local drugstore on your way to the Father's Day festivities. Feeling blue about your lack of inspiration? Try this: Tell Dad the card is also stand for propping up his smartphone--then proceed to
make it for him on the spot
. (It's super-easy once you know how.)
Now you've given him something practical
and
something homemade, just like when you were a kid. Score!
Veteran technology writer Rick Broida is the author of numerous books, blogs, and features. He lends his money-saving expertise to CNET and Savings.com, and also writes for PC World and Wired.
(Source:
Savings.com
)