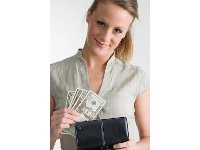 Forget Cyber Monday: Get Discounts Year Round Thanks to the Art of Haggling
Cyber Monday is a great time to score deals, but waiting for sales isn't the only way to get discounts on items. Often you can score great prices just by asking.
Here are the unwritten rules of how to haggle and when to do it.
Pick Your Target
Thrift stores, garage sales and craft fairs are all great places to haggle. You can even haggle in large stores, as long as you have a good reason. Distressed items, display models, and major purchases (
such as furniture and large appliances
) are usually fair game, but don't expect a discount on anything that's already selling well.
Open the Conversation
Start by making casual conversation with the salesperson, or commenting how much you like the item in question. Bring up price when you have a quiet moment, with no other customers around and no big distractions.
Here are a few good ways to start:
"I'm really interested in this, what's your best price for it?"
"Can you make me a deal on this?"
"Is the price flexible at all?"
Time it Right
Salespeople are more likely to haggle at the end of the month when they're worried about meeting quotas, when they have older models to clear out in advance of incoming new models, or if something just isn't selling well. Shop for craft fair and yard sale bargains near the end of the sale, when your purchase saves somebody the trouble of packing up that extra unsold item.
Know Your Numbers
Knowing your target item's real value is key. If the salesperson is willing to haggle, she'll either offer you a discount or ask what you had in mind. Make your first starting offer a little lower than what you're ultimately willing to pay, but not so low that you offend the seller. Anywhere from 50 to 70 percent of the original asking place is a good place to start, depending on how the item's original price compares to its worth.
Have the Right Attitude
Only haggle about an item if you're serious about buying it, and only make an offer if you're willing to follow through on it. Haggling is a game of sorts, so always go into it with a smile and a pleasant attitude; you're more likely to get a better deal that way. Oh, and never haggle when you're in a rush; playing the game takes time.
Be Creative
Here are just a few of the tricks you can try to get a good deal:
Ask for a discount if you purchase multiple items.
Ask if the floor model is for sale at a discount.
Ask for a trade discount--for example, furniture stores may be willing to extend the discount they reserve for dealers and designers to you, too.
If the seller won't come down on the price, ask if they can throw in any extras, such as free delivery for furniture and appliances, free accessories, or a free extended warranty.
If the salesperson isn't authorized to make a deal, ask who is.
What's the best deal you've ever gotten by haggling? Got a great tip I missed? Let me know in the comments!