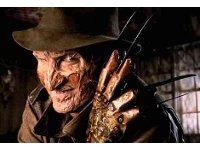 Freddy Krueger Goes Hat Shopping
Something terrible happened on Elm Street. No one was murdered or kidnapped--this is about Freddy Krueger and he has lost something. Something that defined his character. Unfortunately for Elm Street it was not his clawed gloves. Freddy lost his brown Fedora hat.
Gasp! Say it isn't so, but it's true. He needs a cool hat to complement his red and dark green-striped sweater signature look. The hat also helps round out his sinister character.
What type of hat would Freddy Krueger wear?
One, two, Freddy's coming for you.
What hat do you think Freddy Krueger would wear if he lost his vintage Fedora?
Charli "Chuck" Gulley is a screenwriter, filmmaker and freelance writer who lives in Southern California. Quite the tomboy, she enjoys Rugby, Fencing and touch football. She's an alumnus of the prestigious screenwriter's workshop, "Writers Bootcamp." Her passion is Hollywood, anything and everything to do with filmmaking. If you don't find her on set, you can find her at the arcade playing air hockey and eating pizza.