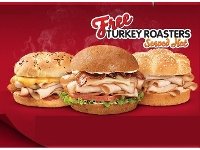 Free American Flag for Labor Day, Free Arby's Hot Turkey Roaster Sandwich + More
Before we get started there is one freebie that popped up for teachers this week. Teachers can get a free Nozin Nasel Sanitizer sample. "Like" them on Facebook and fill in the form, a school name is required.
Just in time for Labor Day, pick up a free 8x12 American Flag from Valu Home Centers. "Like" their page to print the coupon for a free flag. The coupon expires 9/8/12.
Get a Bear Naked Nut Cluster Crunch Cereal sample from Target. Just fill in the form to get yours. Pick up a free Quaker Yogurt Bar at Quick Chek. "Like" them on Facebook to print the coupon, expires on 9/3. Arby's is offering a free Hot Turkey Roaster Sandwich on September 6th from 11am - 1pm. Choose from Turkey Classic, Turkey 'n Cheddar Classic, or Grand Turkey Club. No purchase required. Limit one sandwich per person and no coupon is needed.
Your going to need this for football season! A free Gooseberry Patch Dips & Spread eCookbook. Offer is on their Facebook page, "like" them to download to your computer or print. Just an FYI: Definitely try the Buffalo Chicken Dip! A free sample of safeHands Hand Sanitzer is being offered, all you have to do is fill in the form. Choose from Classic or Squirts for Kids.

There are couple places for the kids to get creative for free. September 4, begins at 5:00pm is LEGO's free monthly build. The kids get to build a LEGO owl. Supplies and class are both free. One free per child and the event is open to children aged 6 to 14 only until supplies last. Get there early to ensure a spot! Lowes Build and Grow Clinics has two projects coming up. Lowes clinics and supplies are free. Space is limited and you have to register online, just enter your zip code and click "register." Saturday, September 8th at 10am: Chuck E. Roller and Saturday, September 22nd at 10am: Fire Truck.
You can get several baby care samples from Lansinoh. Fill in the form to get free samples of: Lansinoh® HPA Lanolin, Lansinoh Disposable Nursing Pads, Lanisnoh Milk Storage Bags, and Lansinoh Clean and Condition Baby Wipes.
It's still warm in most parts of the country and you can order a free Suncare Kit. The kit is from ListenToYourSkin.org and includes: Sun Hat, Travel Bag, Sunscreen and Lip Balm. Click on the 'Sign Up' tab on the LEFT of their page. Use lower case letters when entering your state, for some reason it wouldn't go through with capital letters. It took a while for me to figure that out. You will be sent a confirmation email.
There are a couple freebies for the family cat this week too! Get a free can of Royal Canin Cat Food by printing the coupon under the Spayed/Neutered tab. This one isn't free but it's a great deal, PetSmart is offering a $7.00 coupon off Science Diet Bag Cat Food. Yes - $7.00! "Like" them to print, coupon expires 9/5/12. They even posted how to get a deal on their wall: "Facebook Exclusive - this weekend only! Small bags of Hill's Science Diet cat foods for only $0.99 - $2.99. To take advantage of this great deal: save $5 in-store with your PetPerks membership PLUS save $7 more with this exclusive Facebook coupon!" This offer should be the first post on their wall.

Jackie lives in Seattle, her blog is Free Hot Samples. Where there are hundreds of freebies and deals up for grabs.