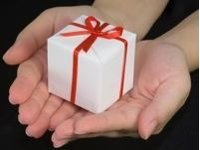 Free to Be a Gift for Me: Ten Best Gifts With Purchase
Gotta stock up on new lotions and potions? Why not score a freebie while you're at it?
The shelf life of most cosmetics is three to four months. With that turn around, you're likely to buy cosmetics and skin care several times a year, and it's not exactly the kind of stuff you want to buy on consignment. Many popular skin care, perfume, and makeup brands seldom have sales, so how can a frugal beauty junkie get the most bang for the buck?
Gifts with purchase, of course! Here's why GWPs are my favorite kind of deal:
You Can Try Before You Buy
Most GWPs contain new products and popular favorites. A good freebie lets you sample the goods before you spend your hard-earned cash. That way, you don't have a bathroom cabinet filled with mascaras that clump and shampoos that leave your hair limp.
You Can Fly in Style
Deluxe samples are perfect for plane flights or overnight trips. Most have just enough to get you through a long weekend away without causing a security hassle at the airport.
You Have Spare to Share
When you get gifts with purchase from your favorite brands, you're likely to get the mini versions of products you love. Share them with friends, and maybe they'll turn you on to their favorites as well. Some women organize product swaps to trade their GWP swag. One girl's trash is another's new favorite cleanser.
Convinced? Well then, feast your eyes on the top free beauty gifts with purchase I've found this week:
So how can you make sure to get a great bonus when you have to put down a stack of cash at the makeup counter?
Check in with your favorite department stores for upcoming gifts with purchase events.
Check out
this site
for great current gifts with purchase. And of course, always check savings.com and follow me on Twitter
@SavingsMBones
.
Know any other great gifts with purchase that I missed? Share them in the comments!