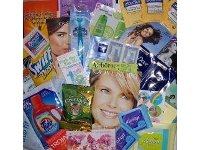 Free Hot Samples: Beauty Product Sample Freebies
Even if you don't win the
Beauty.com gift card and Deluxe samples giveaway
, you can indulge yourself with beauty freebies. And what girl doesn't like free beauty products, especially since these products can be expensive. It's nice to be able to try them first without spending wheel barrels of cash.
Here is a list of some of the freebies available as of this posting.
L'essence D'eau Skin Repair
Sample - Just enter your name and mailing address.
Sample of
Burt's Bees Lotion
- Like Burt's Bees on Facebook and click the "What Your Skin is Saying" tab. Fill in the box that says "Tell Us What Your Skin Has To Say" click publish and a box will come up to fill in your shipping information for your sample.
Garnier Wrinkle Test Strips
- Garnier is offering free wrinkle test strips. Click the sample request box at the bottom of the page and enter mailing information.
Vaseline Intensive Rescue
Sample - Offer available While supplies last (up to 1 million). Limit one sample per household. Enter mailing information.
Covergirl Advance Radiance
Sample - Answer a few questions about your hair and skin to get color matched for your samples. One per household while supplies last. Plus, get a $2.00 off coupon.
Eucerin Lotion
Sample - "Like" them on Facebook and fill in your information under the "Pledge" tab to get your sample.
Free Gift From
Bath And Body Works
- Get a free gift from Bath And Body Works on the Thursday of your choice each month when you go into their store. It doesn't say what the free gift is, but it is BBW so that makes it worth signing up for. You have to join their
LUV BBW Club
. Then once you have your card, go to their website and
register your card
to qualify for the free gift. Valid January 1, 2011 - May 31, 2011.
Jackie lives in Seattle, her blog is Free Hot Samples. Where there are hundreds of freebies up for grabs!