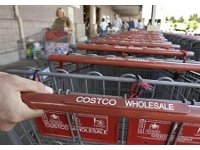 Free Hot Samples: Warehouse Membership Store Pass Freebies
Everyone knows how convenient warehouse stores can be. You go in and buy a gallon container of mayonnaise and your set for a year. Not to mention their prices for gas are usually cheaper than your local gas station. The only problem with them is the cost to join, it seems to get more and more expensive.
The stores do have free membership passes to allow you to check out the stores and even make a purchase.
Sam's Club
has a
one day pass
that you can print and take to the customer service desk so they can assign you a pass number. The Sam's club one day pass offer expires 1/31/12.
Print your
BJ's
one day pass
and have it activated at the customer service desk. FYI: BJ's adds a
15% non member surcharge to your total if you make a purchase using your pass. If you join BJ's
they deduct the 15% charge you paid from your membership fee. There isn't an expiration date for
this pass offer.
As Peter mentioned in his post on
gift card bonuses
, you can use Costco gift cards to shop there without shelling out for a membership. According to Peter:
"Just get a card-carrying member to buy you some $10 gift cards, then use one card per purchase at Costco. You can then put the overage on your credit or debit card. (Note: It's smarter to use many smaller denomination cards in this case, because then you can stretch that initial investment over multiple visits.)"

Enjoy your free passes and stock up!
Jackie lives in Seattle, her blog is Free Hot Samples. Where there are hundreds of freebies and deals up for grabs!