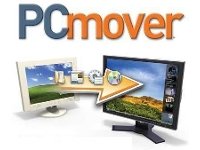 Free PCmover software will simplify your move to a new PC
If you're still trying to squeeze extra life out of your Windows Vista or even Windows XP machine, this may be the ideal time to cut bait.
Consider the benefits of a new PC: faster performance, much better security, perhaps even some extra features (Bluetooth, a touchscreen, etc.) your current model lacks. And with the holidays just around the corner, there are smokin' deals to be had.
Just one little wrinkle: How can you move all your stuff--data, programs, settings, etc.--from the old PC to the new one? That's a hassle even for the savviest of computer users.
Laplink's well-known PCmover Home utility can automate the process, but normally it'll cost you $39.95 for the privilege.
Not today. For a limited time, you can get
Laplink PCmover Home free of charge
. The catch? It's only for users of Windows XP and Vista.
Laplink rightly notes that Microsoft's free Windows Easy Transfer utility doesn't support Windows 8, which is the operating system you'll find on virtually any new PC you buy today. Actually, you're more likely to get Windows 8.1, which PCmover also supports. (It can migrate you to Windows 7 as well if you happen to find a system running that.)
What's more, PCmover offers a lot more flexibility in what you move and how you move it. In addition to files and settings, it can move installed programs -- though if you want my honest opinion, you're usually better off reinstalling programs from scratch on the new PC and then just transferring over the data.
PCmover also lets you use your home network or a direct-connect cable to make the transfer, an option that's a lot faster and more reliable than copying everything to an external drive. (Cheaper, too, if you don't already have a drive large enough to accommodate your stuff.)
To get the freebie, just click the above link, then click under the orange Buy Now button where it says "Free for XP & Vista users - Click here." You'll need to register for a Laplink account, download and install the software, then activate it using the provided code.
I'm not sure how long this promotion will be running, so if you're planning to make a move either now or in the future, I'd grab PCmover while you can.
Veteran technology writer Rick Broida is the author of numerous books, blogs, and features. He lends his money-saving expertise to CNET and Savings.com, and also writes for PC World and Wired.
(Source:
Savings.com
)