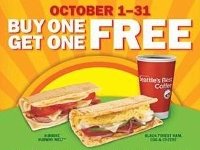 Freebie Corner: Free Starbucks Caffe Latte, Subway's BOGO and more
While your running around try to get ready for Halloween and other holidays, don't forget to grab some freebies and deals for yourself. Your going to be spending enough money in the upcoming weeks, so take advantage of them. Grab free coffee(s), BOGO sandwich and even a free bag of chocolate truffles! Who doesn't love chocolate truffles? There's a money saving coupon too.
If your planning on giving out a healthy alternative to candy, there's something for you too.
It's a freebie you can print at home and hand out! It's definitely one treat that won't contribute to a dentist office visit.
Freebie #1
- Free medium pumpkin spice cappuccino at
Quick Chek
with the printable coupon from their Facebook page. Coupon is located under the "Weekly Fan Coupon" tab and expires 10/15.
Freebie #2
- Grab a free
Chocolate Cream of Wheat
sample on their Facebook page. This offer goes live daily around 8am EST.
Freebie #3
- American Dental Association is giving out 8 free coupons for you to give out in place of candy this year. Print, clip, and hand out; each one is good for a
Plants vs. Zombies download for kids
. The child who receives the free download (for PC or MAC) goes the the website between Oct 30 - Nov 10 to redeem it. The coupon a a full version of the game - $19.95 value.
Freebie #4
- Get yourself a free bag of
Lindt Lindor Chocolate Truffles
! They are giving out one million coupons valid for a free 6oz bag of truffles. Coupon valid up to $3.99.
Freebie #5
- Tons of samples from P&G. Log in or register to get the samples. Products also comes with a coupon. Freebies being offered this time are; Crest® Pro-Health® Clinical Plaque Control Fresh Mint Toothpaste, Oral-B Glide Pro-Health Clinical Protection Floss, Always Radiant Infinity Pads and Tampax Radiant, Pampers Sensitive Wipes and Secret Outlast Protecting Powder.
After logging in click on the "Coupons & Samples" tab, then scroll down and click on "By Mail" at the bottom of the page.
You can choose one or all of them!
Freebie #6
- Free caffe latte at select
Starbucks
stores on October 15th 4pm - 6pm.
Participating locations
.
BOGO Offer
- Offer from
Subway
: For the entire month of
October. Buy any 6-inch sub and any drink to get your FREE six-inch sub.
Restrictions apply.
Purchase must be made before 9am.
Coupon Deal!
- Get a
$3.00 coupon
towards the purchase of 2 All Laundry Detergents. "Like" All's Facebook and take a quick quiz to get yours. The coupon can be printed or mailed to you.
Take some time out of your hectic schedule to get your free stuff!
Jackie lives in Seattle, her blog is Free Hot Samples. Where there are hundreds of freebies and deals up for grabs.


(Source:
Savings.com
)