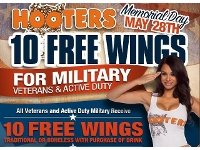 Hooters
Freebie Corner: 10 free wings at Hooters for military veterans and active duty
There are some pretty good freebies this week. If you're a military member and going to be out and about on Memorial Day, stop in at Hooter's or Shoney's to get a freebie.

Keeping it "healthy"? You can get some free Medool Dates for a snack or a 30 day supply of vitamin supplements. For good eats, you can score a free pack of hot dogs this week just by filling out a form.
You can also get cleaning wipes, a free Kotex sample pack
(3 to choose from
) and a free can of cat food too. I always sign up for pet freebies because I can donate them to my local animal shelter.
This isn't free but it's close- 49 cents for a Slurpee all weekend! Have a Happy and Safe Memorial Weekend!
For Active Duty Military & Veterans:

Freebie #2
-
All American Burger at Shoney's
- Stop in Shoney's on
Monday, May 27th
to get your All American Burger.
Proof of military service is required.
One per person.
For Everyone:

Freebie #3
- 30 Day Supply of Sunn Celle Supplements - Fill in the form to get your 30 day supply. Sunn Celle provides these nutrient families; Omega Fatty Acids (3, 6 & 9) - Also known as HDL's, Essential Amino Acids, Vitamins & B-Vitamins, Minerals & Trace Minerals.
Freebie #4
-
Medjool Dates
- "Like" them and fill out the form to get the sample, you'll also get a $2 coupon. If they are out for today, you can try again tomorrow.
Freebie #5
-
Can of Friskies Cat Food
- Watch all three videos and rate them by using the stars beneath the video. Then share each rating on your
Facebook page
by clicking the Thumbs Up.
You have to watch, rate and share for the coupon offer to appear. It will show up under the videos to the right of the purple box that shows the twitter feed.
Freebie #7
-
U by Kotex Sample Pack
- Choose your kit then fill out the form. After submitting the form, the next page will ask you some questions, you do not have to answer them to get the freebie.
Freebie #8 - Pack of Hofmann Hot Dogs - Join the Hofmann Nation to get a free pack of Hot Dogs. The coupon will be sent via email and can take up to 48 hours to be received.

(*This sounds like a printable coupon, some stores don't accept a printable free product coupons. Check the coupon policy for your store. *I couldn't get the form to submit using FireFox,
it worked fine using Internet Explorer.)
Not Free But Close:
Stop in any participating 7Eleven from 5/24 - 5/27 a get a medium Slurpee for 49 cents! This offer appears on the 7Eleven app
Jackie lives in Seattle, her blog is Free Hot Samples. Where there are hundreds of freebies & deals up for grabs.