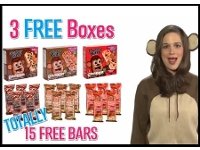 Freebie Corner: 3 free boxes of Monkey Bars
Believe it or not, it's actually been a slow week for freebies. There is a great offer if you're a bride-to-be. You can get yourself a key chain with your new name engraved in it for free. Just make sure you follow their instructions on how to get it and claim it this weekend.
You can get 3 free boxes of Monkey Bars and Lysol Touch of Foam this week if you live in specific areas of the country. Eventually they will it open up to everyone, but for now you have to enter your zip code to see if you qualify.
Sign the kids up to get their own freebies too. Join Geoffrey's Birthday Club so they can get some birthday freebies. You will definitely want to print out some Ratatouille activity pages from Disney for a rainy day. The kids can also get a reminder call from Mike or Sully (Monster's University) reminding them to take a potty break. You have to admit the kids will love that!
Freebie #1
-
Lysol Touch of Foam Sample
- Offer from Target, and they're rolling it out slowly. Click on "Request Sample" and enter your zip code to see if the freebie is available in your area.
Freebie #2
-
Three Boxes of Monkey Bars
- Fill in the form to see if your area is included to get three free product coupons by mail. If not, you'll see a message that states when the freebie offer is available in your area, they will mail you a coupon for 1 free box.